Dr. David Shuman, veterinarian and pet care specialist, has always had a commitment to green principles at his Santa Cruz, California animal hospital.
Inside his facility, all light fixtures and screw-in light bulbs are fluorescent, the toilets are low-flow (with flow restrictors on sinks and shower heads), and his staff maintains a commitment to recycling and minimizing waste. Visitors to the animal hospital's blog can find access to such green resources as biodegradable bags for pet waste and eco-friendly methods for getting rid of fleas.
However, there was one green step for his business that always seemed cost-prohibitive and out of reach: going solar at work.
That was before Dr. Shuman discovered his local community credit union's solar-power loan program. The Santa Cruz Community Credit Union (SCCCU) offers 100-percent financing for the installation of solar energy for commercial property over a term of 15 years. When Dr. Shuman balanced the financing terms offered by SCCCU against the energy savings on his electricity bill that the solar panels would bring, taking out a loan with SCCCU just made good business sense.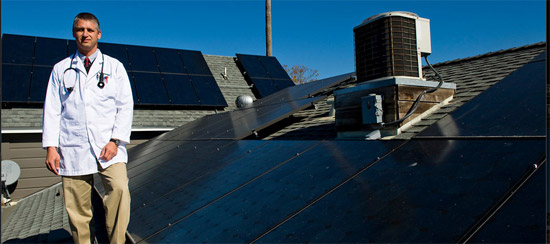 photo courtesy of Joop Rubens and the Santa Cruz Community Credit Union
"My hospital's electric bills have dropped from about $440 a month to about $65 a month," says Dr. Shuman. "It can only be a guess because prices change, but using today's electricity rates, it will take about twelve years or so for the savings to pay for the panels themselves, and to close out the loan."
Meanwhile, the city of Santa Cruz can breathe easier with one more business choosing cleaner, greener power, over dirty fossil fuels. What's more, the SCCCU loan helped direct more business to local solar installation company Independent Energy Systems, supporting good, local, green jobs.
"Joel Kaufman and his team at Independent solar were A+ to work with," says Dr. Shuman. "My customers have noticed the installation, of course, and I was very surprised at how many clients have said something. I've even had pedestrians walking by the hospital stop in to ask about them. I actively refer anyone interested to Independent Energy."
In addition to the solar power loans, SCCCU also offers energy-efficiency loans, up to $10,000 for business to purchase energy-efficient appliances and lighting, window replacements, water-saving or low-flow sprinkler systems, and drought resistant or ecological landscaping, or for waste-reduction, recycling, and composting.
It's all a part of SCCCU's commitment to "develop new loan products that promote energy efficiency and a clean environment for our members and our community," says Frank Nuciforo, director of lending for SCCCU. In 2010, the credit union loaned more than $200,000 to local residents and businesses for going solar, for investing in energy efficiency, or for electric or hybrid cars.