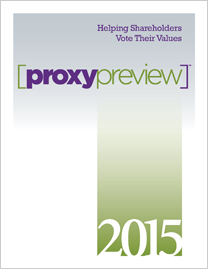 According to the latest Proxy Preview  -- the authoritative, annually-updated compendium of shareholder resolutions – the 2015 shareholder resolution season is set to break yet another record in terms of the number of resolutions filed on social and environmental issues. This means that corporate management, and shareholders, will face resolutions on some of the most pressing issues facing our society and global community. This form of corporate engagement plays an important role, alongside strategies such as consumer pressure, in urging companies to improve their practices and policies.
Shareholder resolutions play a key role in pushing companies to be accountable for the diverse range of impacts that their operations create or exacerbate. When the Proxy Preview went to press this month, 433 social and environmental resolutions had been filed; 417 were filed at this time in 2014. The highest number of resolutions were filed on environmental issues including climate change; corporate political activity; human and labor rights; and on a range of sustainability issues.
Green America's 2015 shareholder resolution focus lists highlight dozens of resolutions that Green America addresses throughout the year: carbon pollution; renewable energy; human rights; GMOs; deforestation; sustainability; recycling; and more. So if you own direct company stock (not mutual funds) – be sure to open your proxy materials and VOTE!
Investors are part-owners in the companies in which they invest, and as such, have a responsibility to weigh-in on issues to improve the company. Not sure what to do with your proxy when it arrives in the mail?
See Green America's infographic on What is a Proxy Ballot and What Do I Do With It? So if you own stock directly in companies like Abbott Laboratories, Bank of America, Chevron, Delta Airlines, ExxonMobil, Google, Hess, Lowe's, PepsiCo, Walmart, or Western Union – check out Green America's 2015 Shareholder Resolution Lists for votes to support!