By Kegan Gerard  Windenergy by Wagner Christian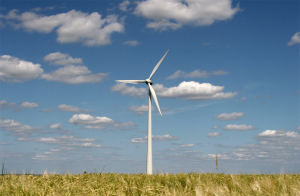 By Kegan Gerard
In the few short weeks following the launch of our Amazon: Build a Cleaner Cloud campaign, two huge renewable energy investments have been announced from the company.
In June, Amazon Web Services (AWS) announced that it planned to the development of an 80 megawatt (MW) solar facility in Virginia, calling it Amazon Solar Farm US East.
Then in July AWS revealed plans for a 208 MW wind farm in North Carolina, called the Amazon Wind Farm US East. Current roadmaps show that the Amazon Wind Farm US East — the first utility-scale wind installation in NC — aims to be operational by December 2016.
Amazon Web Services' US East division has historically been one of its most polluting operations, with only 6 percent of its operations being fueled by clean energy according the Clicking Clean report, released by Greenpeace earlier this year.
The flood of support from Green America members has shown Amazon's chief executive, Jeff Bezos, that the company must commit to renewable energy and be transparent in its transition to a clean energy future, if it wants to keep the support of their customers — companies like Netflix, Change.org, Tumblr, and hundreds more.
So far, over 26,000 of you have signed on to tell Amazon to take action, and to stop keeping its customers in the dark — but there is still more work to be done.
There is a global spotlight on renewable energy right now as the world ramps up to the December climate talks in Paris. Any success we hope to achieve there must begin at home. We have the power to help shape businesses here at home, and those businesses have the power to shape the future or energy consumption.
Help us make this happen. Sign on to our Build a Cleaner Cloud campaign, share it with your friends, and together we'll see the largest cloud computing provider commit to a healthy, renewable future for all of us.