By Kegan Gerard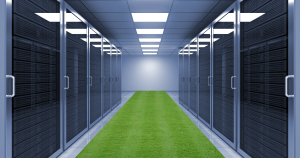 Since we launched our Amazon: Build A Cleaner Cloud campaign on June 9th, the company has made some progress on the renewable energy front—announcing plans for an 80 MW solar farm in Virginia. This development proves that consumer pressure on Amazon works! And while Amazon's cloud-computing arm, Amazon Web Services (AWS), still has a long way to go to become a truly green hosting option, Green America welcomes this step in the right direction.
Over 23,000 Green Americans have joined us in calling on AWS to keep pace with other industry leaders and power its operations with the renewable energy sources of the future, but, together, we still have a ways to go.
As it stands, AWS is one of the few Fortune 500 companies that has failed to publish a sustainability report, which would allow customers to track the company's progress on climate change and other key metrics, as well as hold the company accountable to meeting its announced goal of using 100% renewable power. (The company has not yet set a date by which it intends to reach that goal.)
With clients ranging from Netflix to the CIA hosting their information on its servers, AWS's reach extends deep into each of our lives. As the single largest provider of cloud-computing services, AWS is in a position to drive renewable development forward and reduce many of the greenhouse gas emissions associated with data center operation.
AWS' east coast operation, US East, only acquires six percent of its energy from renewable sources—even accounting for its new Virginia solar plant—according to recent Greenpeace estimates. The rapid growth of cloud computing is only expected to continue, and companies like Amazon must switch to renewable energy sources to curb rising temperatures that threaten communities and ecosystems worldwide.
On June 25th, Green America teamed up with representatives from Greenpeace to speak directly with AWS customers at the company's GovCloud conference in Washington, DC. GovCloud customers, including government agencies, educational institutions, and nonprofits, are in a perfect position to use their buying power to pressure on Amazon to make changes that influence us all. Green America will continue our work to educate and mobilize communities about AWS until it accomplishes these three, crucial steps:
Commit to increasing the share of renewable energy powering data centers to 100% by 2020, and cease the construction of new data centers that rely on coal-fired power.
Submit complete and accurate data to the Carbon Disclosure Project.
Issue an annual sustainability report following Global Reporting Initiative Guidelines.
Consumer pressure on Amazon works. In the last year, the company has committed to clean energy sources, including wind and now solar. To continue pushing Amazon to achieve the three recommended steps, Green America needs your support. If you haven't yet, join us in calling on Amazon to build a cleaner cloud—one that is powered by renewable energy. We'll keep you updated on our progress, so stay tuned for any new developments!