Halloween is one of those holidays that most kids can't wait for and most parents loathe due to the high amount of unhealthy sugary candy. Many of the go-to candy brands are also loaded with genetically engineered (GE or GMO) ingredients. This year, make the switch to non-GMO and healthier Halloween treats. The Non-GMO Project and Green Halloween's Guide to a Non-GMO Halloween is an excellent resource, which details the most common GE ingredients such as sugar, high fructose corn syrup, corn starch, and soybean oil along with many others.
The Natural Candy Store has a whole selection Non-GMO Project Verified snacks and candy. You can also check out our Green Business Network members for excellent offerings, like delicious organic Fairtrade chocolate from Equal Exchange or Alter Eco.
Along with concerns over GMOs in your children's candy, it is also important to be conscious of food allergies of your children and other trick-or-treaters. As GMOs have become more prevalent in our food system, so have the pesticides used to grow them. The American Academy of Pediatrics released a report on the link between a rise in pesticide use and childhood allergies. Many popular Halloween treats also have some of the most common allergens such as peanuts, dairy, soy, and wheat. Parents should be extra vigilant in checking labels during the holiday season due to the fact that increased production often means different allergen precautions for the mass-produced mini versions of candies.
Besides indulging in loads of store-bought candy, a great option is to make your own tasty treat. Caramel apples are a childhood favorite; there is just something about fruit wrapped up in a gooey substance guaranteed to get all over your face, that is so enjoyable. While caramel is tasty, many brands are filled with additives and artificial colors and flavors, so we recommend skipping store-bought brands and making your own at home. With the recent release of GE apples, it is important to make sure to purchase organic apples, preferably from a local farm or farmers market.
Here is a delicious recipe for a healthier version of caramel that can be used to dip apples or top ice cream.

Healthy Caramel Recipe by Stephanie Wong
* Use organic, non-GMO ingredients whenever possible.
Ingredients:

• 1 cup organic full-fat coconut milk
• 1/8 teaspoon salt
• ½ cup organic coconut sugar (we like Nutiva)
• 2 tablespoons water
• 1 teaspoon organic pure vanilla extract
• 1 tablespoon fresh lemon juice
Preparation:
In a small pot over medium heat, mix coconut sugar, water, and lemon juice and bring to a boil.
Immediately add the coconut milk (pour slowly), sea salt, and vanilla. Simmer for about 15 minutes until the liquid becomes thick and dark. Be sure to stir occasionally and scrape the edges of the pot with a rubber spatula to avoid burning.
Remove from heat once it's thick and cool down to room temperature. Yields 2/3 cups.
For best results, store it in a sealed jar in the refrigerator overnight before using it.
Use it for: caramel apples, popcorn, drizzling over frozen yogurt/ice cream, or add it to other baked goods.
Don't forget: The consistency of the caramel looks and tastes best when you refrigerate it overnight before using it. And boy does it taste soooo darn good (with fewer calories and sugar).
Take action and tell grocery stores that GE apples are a rotten idea and that we don't want them!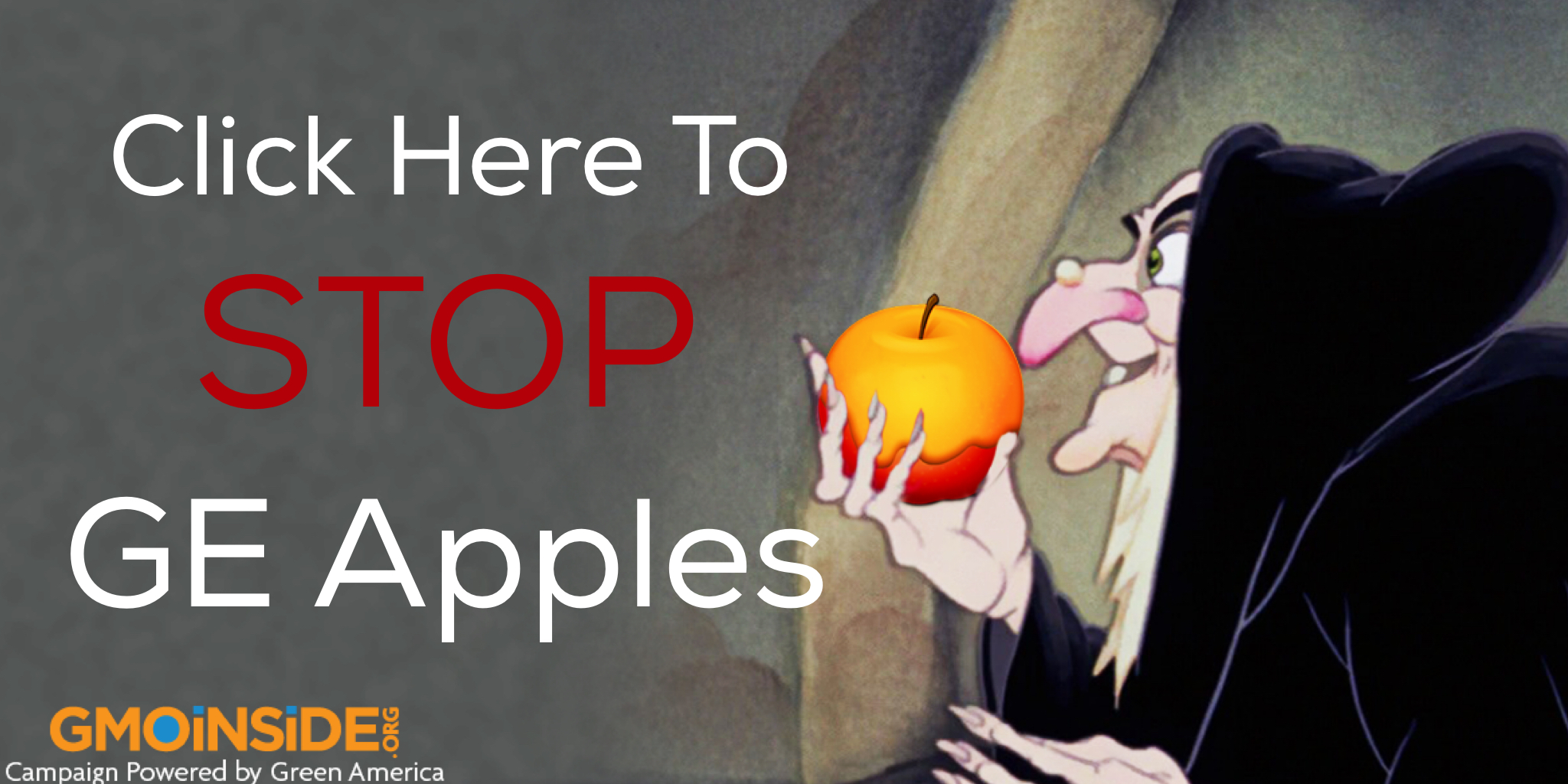 – Anna Meyer, Green America's GMO Inside campaign