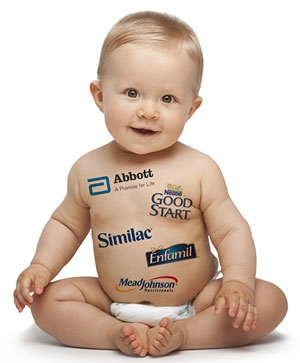 Green America's GMO Inside Campaign is taking on infant formula producers for packing their products with GMO ingredients. See who makes the biggest genetically modified baby food.
The majority of the corn, soy, and sugar-beet crop in the US has been genetically modified to create plants designed to withstand withering blasts of toxic weed-killers and pesticides. Corn, soy, and sugar are major components of the leading infant forumulas.

The companies that manufacture infant formula are using their corporate profits to fight against parents' right to know what's in their baby food, by contributing millions of dollars to campaigns against the labeling of GMOs, according to the GMO Inside campaign.
GMOs have never been proven safe for human consumption and the inadequate research that has been done on GMOs does not look at long-term effects in humans, let alone infants. Babies are particularly vulnerable when it comes to eating GMOs as their digestive and immune systems are not fully developed and GMO crops have a much higher exposure to dangerous pesticides such as Roundup.
The leaders in making babies into lab rats:
Abbott Laboratories, a pharmaceutical company, makes Similac, which accounts for roughly 43% of the US market for infant formula. Last year, Abbott Laboratories spent $334,500 to fight GMO labeling in California.
Mead Johnson Nutrition makes Enfamil, in second place with 40% of US infant formula sales. Last year Mead Johnson spent $80,000 against GMO labeling.
Nestlé, maker of Gerber Good Start, represents 15% of infant formula sales and spent $1,461,600 against your right to know about GMO ingredients.
Tell these corporate giants to get the GMOs out of the baby food supply.