Be sure to tune into ABC's Shark Tank on Friday, February 10 at 9pm EST to see Evan Benjamin of Peaceful Fruits pitch their social-good idea to investors. Peaceful Fruits, specializing in fruit strips snacks made from real fruit, is one of Green America's newest Gold-Certified Green Business Network members. Founder Evan Benjamin's healthy and sustainable snacks are sweetened by the incredible social mission behind his business.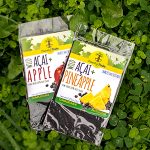 Peaceful Fruits aims to make snacks you can enjoy with peace of mind. That starts where their fruit is harvested, in partnership with the local communities in the Amazon Rainforest, and continues all the way to Akron, OH where they employ people with disabilities in full wage jobs to produce their snacks with love. Each of their fruit strips is packed with over 25 acai berries, harvested wild in the Amazon to help protect the rainforest and empower the local people.  This acai is straight from nature, organic and non-GMO. Peaceful Fruits blends those berries with other whole fruits to make their different flavors and then slow dry them into delicious, healthy fruit strips that are the perfect snack for families and nostalgic adults. Peaceful Fruits has earned Green America's Gold Level Green Business Certification for Food Products. 
Q&A with Evan Benjamin of Peaceful Fruits:
What does your business do and what are your most popular products?
Peaceful Fruits is a social good snack company that makes healthy, delicious, fair trade fruit snacks. That means we make fruit snacks actually out of fruit! Our flavors are both pretty even, but we are getting ready to launch 5 new ones—so we'll see if we get a clear winner soon!
What makes your business and products green? 
Our fruit is harvested in the Amazon Rainforest, where I was a Peace Corps Volunteer. We partner with the local communities to harvest wild, sustainable fruit in a way that creates economic empowerment while preserving the environment and local control of resources. We also go out of our way to use eco-friendly methods, such as compostable and recyclable packaging and a green-certified production facility!
What did you do before you started your green business? 
Before Peaceful Fruits, I was a Community Economic Development Specialist for the U.S. Peace Corps in Suriname, South America. Before that, I was a project and operations manager in private industry.
What have been the biggest challenges to social and environmental responsibility? 
It definitely takes a bit more planning and thinking up front, but doing things the right way really gets customers and the community excited - which is good, because you need that to get over hurdles like initially higher prices, more difficult sourcing, etc.
What's been your proudest moment as a green business owner?
I love the look on people's faces when we explain that our packaging looks like plastic but is actually compostable! Science is like magic sometimes and it is so much fun to be able to share with people the amazing things that are happening in the green business space!
What advice would you give to other social and environmental entrepreneurs just starting out?
Jump in with both feet!  They key is to find advisors and partners of a like mind, who get that you are purposefully taking a slightly harder and longer path. At the same time, always keep your pure business friends close. Sustainability means you have to make a profit, too!