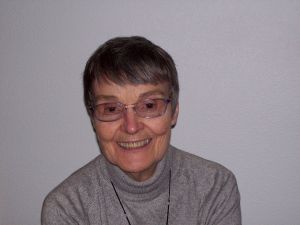 Today, Green America honors the life of Dr. Theo Colborn, who passed away on December 14th.  Many of us working for environmental sustainability and social justice aim to change the world, but Dr. Colborn did just that through her groundbreaking efforts to recognize and pinpoint the effects of endocrine-disrupting chemicals.
Her seminal book, Our Stolen Future (co-authored with Dianne Dumanowski and John Peterson), earned her countless descriptors as "the Rachel Carson of the 1990s," as both it and Carson's Silent Spring sounded urgent alarms about the harm that the proliferation of untested or minimally tested synthetic chemicals are doing to the Earth and to animal and human health.
Colborn's work detailed how endocrine-disrupting chemicals found in everyday products like plastics and body care items can, even in low doses, impact human development and cause biological, metabolic, and neurological abnormalities—ranging from birth defects to low IQ to low sperm counts and cancer. These chemicals, she wrote, have the ability to mimic natural hormones in the body, thereby "[fooling] the tissues that respond to natural hormones, causing irreversible changes in structure and function."
It's thanks to Dr. Colborn that the world has a language for these types of chemicals and the effects they have—and with that language comes the ability to pinpoint problematic chemicals and prevent more harm. Thanks to her, countless people have switched to food containers that are manufactured without bisphenol-A (BPA), or baby bottles and toys made without phthalates, two of the most studied endocrine disruptors.
Most recently, Dr. Colborn had been working on demonstrating how one of the biggest threats posed by the fossil-fuel industry, in addition to the climate crisis, is the number of endocrine disrupting chemicals the industry produces—particularly benzene and toluene.
What's even more remarkable about Dr. Colborn is that her scientific career came about in the "second act" of her life.
"Rachel Carson's The Sense of Wonder describes so well the innate curiosity I have always had about natural things," Colborn told Terrain magazine in 2014. "I always asked lots of questions, and nobody ever had the answers."
So Colborn, a pharmacist through the 1970s, went back to school in 1985 to tackle questions she'd long had about the harm humans were doing to the environment. She earned her Ph.D. in zoology (with minors in epidemiology, toxicology, and water chemistry) from the University of Wisconsin—Madison. And then she dedicated the rest of her life finding answers for the rest of us.
Her work has been instrumental in forming Green America's approach to toxins in everyday products. We embrace the Precautionary Principle, making it a policy to always advise our members to err on the side of caution when it comes to potential toxins in their body care, food, furniture, and other products. And we screen the companies that belong to our Green Business Network™ (GBN) with precaution in mind—and with an eye to ensuring that suspected hormone disruptors are not included in GBN-member products.
We at Green America thank Dr. Colborn for asking questions that are so vital to the continued existence of humans on this planet. And we support the scientists who continue her important work to find the answers.