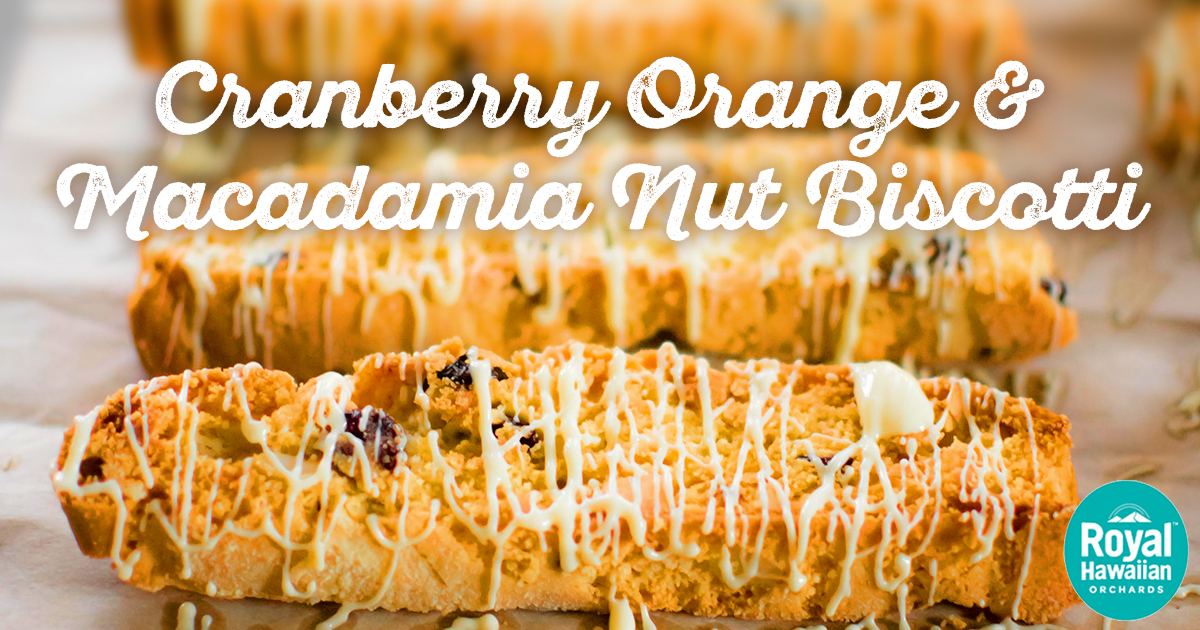 Biscotti is a lovely marriage between a sturdy bread and cookie. This holiday season we recommend that you make a big batch or two (maybe 3) of these biscotti. Invite some of your favorite people over for tea (or Yerba Mate Lattes!) and give them something tasty biscotti to snack on. Then take that second batch and give them to some friends, everyone will appreciate a sweet homemade treat that goes perfectly with their morning coffee or afternoon tea.
Cranberry Orange and Macadamia Nut Biscotti by the Gastronomic Bong
* Use organic, non-GMO ingredients whenever possible.
Ingredients:
2 ½ cups all-purpose flour
½ cup unsalted organic butter, room temperature
1 cup caster sugar
2 large orange free range eggs
1 teaspoon Fair Trade vanilla extract
1 ½ tablespoons orange zest
2 tablespoons orange juice
1 teaspoon baking powder
½ teaspoon salt
½ cup dried cranberries
½ cup Royal Hawaiian Orchards macadamia nuts, chopped
1 cup white chocolate, chopped
Preparation:
Preheat oven to 350°F. Line large baking sheet with parchment paper. Combine the flour, baking powder, and ½ teaspoon salt in a bowl. In another large bowl, using an electric mixer, beat the sugar and butter for 2-3 minutes until light and fluffy. Then add the eggs, orange zest, orange juice, and vanilla extract and continue to beat until well combined.
Now add the flour mixture half cup at a time to the butter-egg mixture and slowly stir with a spatula to form a soft, sticky dough. Add the dried cranberries and macadamia nuts and stir until well distributed. Now using floured hands, shape the dough into 15 inch x 3 inch loaf on the parchment paper. Bake the loaf in the preheated oven for 25-30 minutes or until golden brown.
Let the loaf sit for about 15-20 minutes or so or until cool enough to handle. Transfer the loaf to a work surface and using a serrated knife, cut logs on diagonal into ½ inch to ¾ inch wide slices. Maintain the same oven temperature. Arrange slices on the large cookie sheet. Bake 10-15 minutes or until it looks golden brown and toasted.
Let the biscotti cool right on the cookie sheet. Meanwhile stir white chocolate in the top of a double boiler over simmering water until smooth. Remove the bowl from over water. Now using a spoon or fork, generously drizzle the white chocolate over biscotti. Let stand until chocolate sets, about 20 minutes or until it is set.
Store the biscotti in an airtight container, they will keep up to 6 weeks or they can last for many months in the freezer.
This post is sponsored by Royal Hawaiian Orchards. Thank you for supporting the brands that support us. GMO Inside is a non-profit campaign and we are thankful for the brands that support our work to change the food system.