Today Apple's shareowners will vote to approve the compensation packages of its top executives at its Annual Shareowner meeting in Cupertino, CA. The company broke records last quarter selling 74.5 million iPhones and earning $18 billion in profits. Executives will be rewarded lavishly: Tim Cook, CEO: $1.7 million salary, $9.2 million total compensation Other senior VPs: $947,596 salary, $28 million average total compensation What won't be discussed at the meeting is the ongoing struggle of the workers who make Apple's highly profitable products. While executives earn millions, workers make a little over $3/hour. In order to earn enough to cover living expenses workers rely on overtime, sometimes working as many as 64 hours per week at one Apple supplier, according to China Labor Watch.[1] We've estimated that Apple could pay its 1.5 million workers a decent wage for only $12.38 more per device. That's just 7% of its profits last quarter.[2] Our latest infographic breaks this down. Would you pay $12.38 more per iPhone to ensure workers are earning decent wages? Apple could, and Apple should.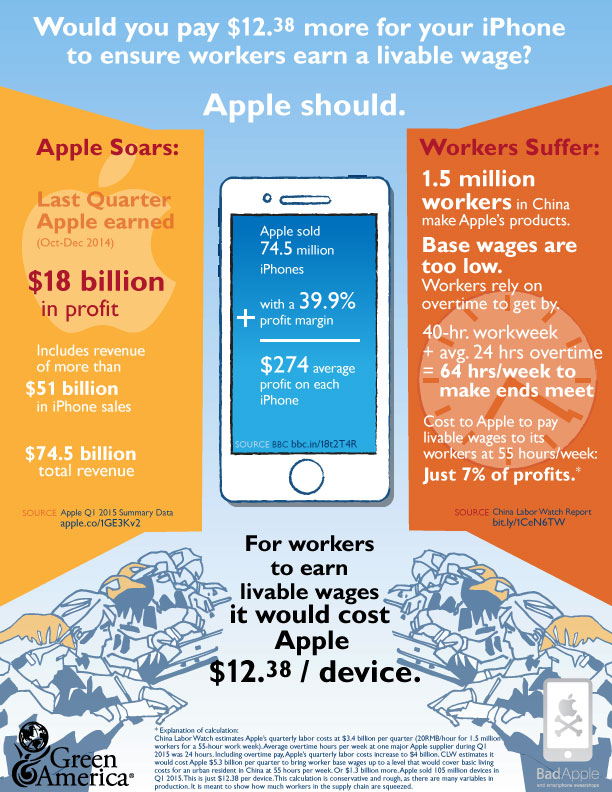 Download infographic as PDF (for printing).    
---
[1] Analyzing Labor Conditions of Pegatron and Foxconn: Apple's Low-Cost Reality, China Labor Watch [2] Explanation of calculations:
This calculation is conservative and rough, as there are many variables in production. It is meant to show how much workers in the supply chain are squeezed.
China Labor Watch estimates Apple's quarterly labor costs at $3.4 billion per quarter (20RMB/hour for 1.5 million workers for a 55-hour work week). Average overtime hours per week at one major Apple supplier during Q1 2015 was 24 hours. Including overtime pay, Apple's quarterly labor costs increase to $4 billion. CLW estimates it would cost Apple $5.3 billion per quarter to bring worker base wages up to a level that would cover basic living costs for an urban resident in China at 55 hours per week. This is  $1.3 billion more. Apple sold 105 million devices in Q1 2015. This is just $12.38 per device. This is also 7% of last quarter's profits.