On Monday, the President made an unsettling move and reduced the size of two national monuments in Utah – Bears Ears and Grand Staircase-Escalante. Combined Trump reduced the area of these parks by 2 million acres, decreasing the size of Bears Ears by 85% and Grand Staircase-Escalante by 46%. This is a direct assault on our public lands.
The fight to protect our public lands doesn't end with Bears Ears. The decision to reduce Bears Ears is part of a recommendation from the Secretary of the Interior to either reduce the size of or change the management practices of 10 national monuments.
Here is what you need to know about Bears Ears, national monument status, and how to protect OUR public land.
What is Bears Ears and Why Does It Matter?
If Bears Ears National Monument sounds familiar that is because there was a huge push from the outdoor industry in 2016 to protect the region – ultimately, they succeeded. Prior to his departure from office, President Obama signed an order extending the boundaries of Bears Ears by 1.35 million acres. President Clinton designated Grand Staircase-Escalante in 1996.
Bears Ears and Grand Staircase-Escalante have significant value to native nations. Bears Ears has significant cultural value and is home to native ceremonial sites, ancient cave dwellings, and rock art. Grand Staircase-Escalante houses an array of fossils, evidence of prehistoric cultures, and four-billion-year old stone formations. Both areas have great recreational value and allow public access to hiking, rock climbing, rafting, and many more outdoor activities.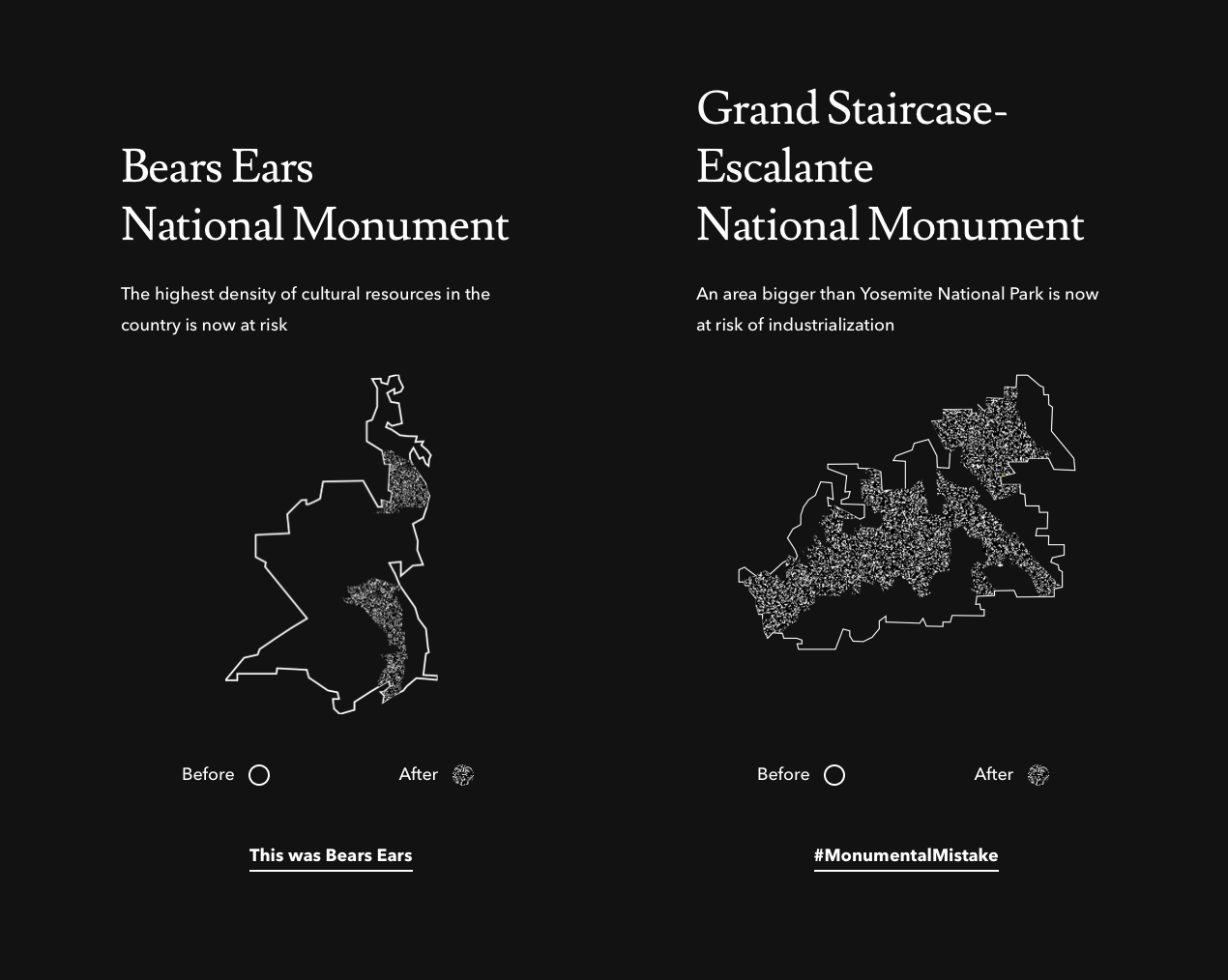 Beyond the general concerns around the threat to conservation and public access to open spaces, the general concerns around the threat to conservation and public access to open spaces, this is an issue of social justice. Native nations have had their land taken away since the earliest days of this country. National monument status ensures the protection of ancient tribal lands and ceremonial sites. Removing this form of protection and allowing unfettered development is a modern-day attack on native culture, reenacting the sins of our forefathers.
You can get a 360 view of Bears Ears by visiting http://bearsears.patagonia.com. You can also learn more about the steps it took to get national monument designation for Bears Ears via the Kyle Thiermann show podcast. 
What exactly is a National Monument?
National monuments are protected under the 1906 Antiquities Act and can be designated by the President, without the input of Congress. Areas are protected for the value they offer as wild and historic places, but also for their scientific importance.
National monuments are some of the most biological diverse regions of the United States and the world. They are home to native heritage and archeological sites and hold unmeasurable cultural value. Many of these sites are key resources for studying the impacts of climate change. They are regions of beauty and wonder and are set aside for the enjoyment of all. These are important places.
Why did Trump take away public lands?
National Monument designation limits development within the designated area, putting a cap on all future natural resource extraction, grazing, and commercial development. Though this form of designation does allow for existing activities to continue – existing oil and gas leases, livestock grazing, mining, and other activities are allowed.
President Trump's aim is to "usher in a bright new future of wonder and wealth." What this really means is increased oil & gas extraction, mining, and logging. He is essentially selling off our public land and cultural heritage to the highest bidder. Taking land out of public control and putting it into the hands of corporate interests. Further development, particularly in the form of resource extraction, has major implications for climate change and the future biodiversity of these regions.
It is important to note that all this land may remain public, under the authority of the Bureau of Land Management (BLM), but this does not ensure it's protection. Land controlled by the BLM can be sold off to private interests and used for extractive industries. The land can also be removed from federal control and placed under state control. Neither of these options ensure the protection of the land.  
This move is not in the best interest of our country.
What can be done?
The fate of Bears Ears and Grand Escalante-Staircase is going to be settled in court. But there is still so much more that you can do to protect OUR public lands. Most importantly we all need to speak up.
We can all still act to protect other national monuments being reviewed by the Department of the Interior that are likely to be reduced or whose management practices will be changed. These monuments include Gold Butte, Nevada; Cascade-Siskiyou, Oregon and California; Pacific Remote Islands, Pacific Ocean; Rose Atoll, Pacific Ocean; Ketahdin Woods and Waters, Maine; Organ Mountains-Desert Peaks, New Mexico; Rio Grande del Norte, New Mexico; Northeast Canyons and Seamounts, Atlantic Ocean.
Don't let these national treasures bare the same fate as Bears Ears and Grand Staircase-Escalante.
Ways to Stand Up for Public Lands
1. Contact your Members of Congress
Call your members of Congress and ask them to protect our public land. You can access contact information for your elected officials here. Ask them to protect the Antiquities Act and to designate Bears Ears and Grand Staircase-Escalante as National Parks
Not a fan of the telephone? Simply text Text "RESIST" to 50409. Resistbot allows you to reach out to your members of Congress, your Governor, and the President. Since persistence pays off you can set the bot to send you daily reminders to write to your elected officials.
2. Contact the Secretary of the Interior
The Department of the Interior overseas the management of all public lands. The Secretary of the Interior, Ryan Zinke, recommended the reduction of Bears Ears and Grand Escalante Staircases. You can contact the Secretary of the Interior and let him know that you disagree with this decision and that you want to ensure the protection of all current national monuments.
By Phone:
(202) 208-3100
By Email:
By Mail:
Department of the Interior
1849 C Street, N.W.
Washington DC 2024
3. Get Active on Social Media 
Encourage your family and friends to reach out to get engaged in this issue. You can share this post on your social media channels. You can update your social media profiles with this image from REI.
Use the hashtags #MonumentalMistake #ProtectBearsEarsNow #ThisLandisOurLand
4. Support Bears Ears Directly
Support Bears Ears directly by helping fund a visitor's center on Kickstarter. The center will educate visitors on the rich history of the area and the importance of protecting it for future generations.
SaveSave