What lies ahead as far as green in America may seem uncertain at the moment. At Green America, we strive to make a difference—we know you do too. In the last several months, our online actions for change have garnered tens of thousands of signatures and are leading change for clean energy, safe food, fair labor, and responsible banking. We're certain we will continue to make progress towards a green economy that treats the Earth and all the people on it right.
We want to harness the energy folks have now, so here are 30 actions you can take each day to make change in the world. Do them in the next 30 days or 365, and know that you've made a difference.
We're moving forward, with or without Washington. Will you join us?
Day 1: Find out who your state rep is. Save his/her email and phone number on your phone, fridge, or desk for future reference.
Day 2: Find out who your senators are. Save their emails and phone numbers on your phone, fridge, or desk for future reference.
Day 3: Call and email your representatives and senators to ask them to stand strong for the environment and stand up for climate science in the next four years. Tell them to support the progress we've made – including the Paris Climate Agreement, and regulations on methane and power plants.
Day 4: Set your green goals for the year: Do you need to upgrade your appliances to water- or energy-saving ones? Will you attend more activism events? Can you volunteer more, or commit to using fewer disposable items? Make a list of what you can do, and put it somewhere you can see as a reminder.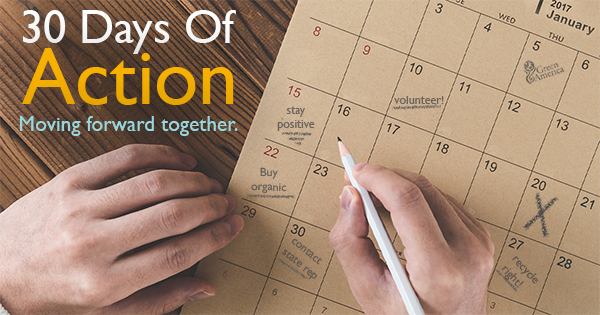 Day 5: Find an ally with whom you can share goals, and perhaps even do them together. This can be a like-minded friend from your neighborhood, workplace, house of worship, or from an online community. Make a plan to meet up or talk regularly, like once a month.
Day 6: Get started breaking up with your mega-bank. Find a new community development bank or credit union that reflects your values and supports communities, small businesses, and low-income neighborhoods instead of fossil fuels, predatory practices, and ridiculous CEO salaries.
Day 7: Open a bank account with the bank you chose and start moving your money and bills to that account.
Day 8: Tell your old bank why you're breaking up with them.
Day 9: Skip the Starbucks line. Find a local coffee shop that offers fair trade, organic coffee and organic milk. (Learn why organic milk is important.)
Day 10: Talk to your employer about adding socially responsible options to their 401(k) offerings.
Day 11: If you haven't already, switch your electricity bill to 100% clean energy. Switching is fast and easy, and your utility will remain the same. Plus you'll be helping Green America's work too!
Day 12: Start a conversation café, or join one to talk with others in your community about important issues. Moving "from small talk to big talk" is often the first step to taking action together.
Day 13: "Vote with your dollars" for the kind of economy you want to see by shopping at small, local, independent and green businesses, instead of big-box chains with destructive practices.
Day 14: Learn how recycling works and why it's so often done wrong—if you already know, share with someone who may not.
Day 15: Educate yourself on the facts on climate change and how to correct climate deniers when they share junk science.
Day 16: Write a thank you note to someone doing good in your community, or offer to take them out for coffee or tea.
Day 17: Add diversity to your workplace by starting a conversation about reaching out to communities of color and LGBTQ groups next time you have a job opening.
Day 18: Reduce and reuse: Is there anything you can repair instead of throw out? Are there things that are still good you can hold onto instead of upgrading?
Day 19: Find one thing you were thinking to buy that you could borrow from or share with someone instead, like a blow dryer with a roommate or snow blower with a neighbor.
Day 20: Store your food correctly to reduce wasted food.
Day 21: Support food rescue efforts for families in need.
Day 22: The fight is not finished in Standing Rock. Find out what you can do to stand up for water rights and Native people today. Also learn how your investing can help or hurt Native people's access to clean water.
Day 23: The cloud—the giant servers that store huge amounts of data for US and worldwide Internet users—is a huge consumer of dirty energy. Amazon is the world's 8th largest retailer and consistently ranked number one or two for using the largest amount of cloud storage space. Ask Amazon to be more transparent about its vague clean-energy goals and aim higher to build a cleaner cloud.
Day 24: Sign the petition to tell Samsung to end poor labor conditions in smartphone factories as workers without enough training or protection deal with highly toxic chemicals.
Day 25: The refrigerator is one of the biggest energy-users in your home, and if it was made before 1993, it's a huge energy hog. No matter how old it is, clean the coils of your fridge, and mark your calendar to do the same every six months.
Day 26: Go on draft patrol. Walk slowly around your home, can you feel a draft or cold spot near cracked windows, under doors, or poorly insulated walls? Make a list of where and how bad the draft seems. That's enough for today, but can be part of a future plan to weatherproof your home and make it more efficient.
Day 27: Switch your big-bank credit card to one that supports local communities, a clean environment, local and green businesses, and fair loans. You might be surprised by the banks that invest in coal, spend on politicians you don't like, or don't treat their customers right.
Day 28: Walk or bike somewhere in town you usually drive to. Like it? Keep doing it!
Day 29: Regularly visit reputable news sites to stay up to date on topics you care about, and favorite them in your browser. When you come across news from an unknown or questionable source, keep fact-checking, and encourage others to do the same. Politifact is a Pulitzer Prize-winning fact checking website.
Day 30: Buy yourself an organic, fair trade chocolate bar, and enjoy!