Happy March/national noodle month! Fear not health junkies, pasta is actually remarkably low on the glycemic index.
In Italy, the pasta capital of the world, pasta is eaten on average at least once a day and Italy has one of the lowest rates of obesity in Europe and the world. Pasta can be good tasting and good for you.
If we haven't convinced you to eat some noodles yet, take a look at these delicious recipes:
First off, we have a fun recipe for Holy Guacamole Cream Pasta from the Healthful Pursuit website. It's vegan, GMO free, and dairy free. It compares to a creamy alfredo dish, but you won't get all the empty calories that come from butter and cream.
We love Berlin Natural Bakery's Whole Spelt Spaghetti for this recipe. On their website, they point out that they know "the difference between naturally grown farm fresh foods, versus what we could buy in the grocery store, based solely on taste. Over the years we learned that great taste wasn't the only benefit to these natural and organically grown foods, but that these great tasting foods were also of great benefit to our health." Thanks Berlin Natural Bakery for being non-GMO and promoting organic agriculture!
Holy Guacamole Cream Pasta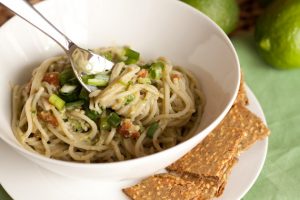 Ingredients
1 16oz pack of spaghetti (we HIGHLY recommend Berlin Natural Bakery's Whole Spelt Spaghetti--it tastes great and it's nutritional!)
1 organic avocado
2 organic garlic clove
4-6 tbsp organic almond milk [I used 5 tbsp but could have been good with 6 as well. It depends on how thick you want the sauce]
2 tbsp organic cashews, soaked overnight in water. Drained and rinsed.
4 tsp organic lime juice
2 tbsp fresh organic cilantro
1 tbsp organic jalapenos
1 tbsp organic hemp oil (we recommend Nutiva's Organic Cold-Pressed Hemp Oil)
1/2 tsp organic herbamare
1 organic plum tomato, chopped
4 organic green onions + more for garnish
Directions
Cook pasta according to package directions. Meanwhile, in a food processor, combine avocado, garlic, milk, cashews, lime juice, cilantro, hemp oil, and herbamare. Pulse until smooth. Add tomato and 2 green onions and pulse for 2-5 seconds until just combined. Mix guacamole sauce in with pasta and serve with green onions sprinkled over top and herb and garlic socca crackers to the side.
Next, we have a recipe from one of our supporters Eden Foods' website.  I've tried this before and it's easy, tasty, and filling. Plus, the fiber-rich noodles are made of kamut wheat and quinoa, a great source of protein for vegetarians! Eden products can be found at many popular grocery stores, including Whole Foods and Wegman's.
Gemelli Pasta with Spinach & Tomatoes
Serves 6, Prep Time: 10 minutes, Cook Time: 20 minutes
Ingredients
12 ounces Eden Organic Kamut & Quinoa Twisted Pair® Gemelli, 1 package
2 Tbsp Eden Extra Virgin Olive Oil
2 cloves garlic, minced
1 large organic onion, sliced thin
1/2 tsp crushed red pepper flakes
1/4 tsp freshly ground black pepper
1/4 tsp Eden Sea Salt, or to taste
2 cups organic spinach, packed and chopped
1/2 cup any Eden Organic Diced Tomatoes, drained, reserving 1 cup tomato cooking liquid
Directions
Cook pasta as package directs. While the pasta is cooking, heat the oil in a large skillet and sauté the garlic and onion for 4 to 5 minutes. Add the crushed red pepper, salt, spinach and tomatoes. Sauté 1 to 2 minutes.  Add the tomato cooking liquid. Drain the pasta and add to the skillet. Season with black pepper and add extra salt if desired. Toss the pasta and vegetables until heated through. Place in serving bowls.
Try Berlin Natural Bakery Breadsticks to go along with this satisfying pasta dish!
Now, if you'd prefer to start from scratch, try making these Homemade Egg Noodles from the Cocunut Recipes website!
Homemade Egg Noodles
Serves 4, Prep Time: 15 minutes
Ingredients
•    4 organic, cage-free eggs
•    1 tablespoon organic coconut oil (we highly recommend Nutiva's Organic Virgin Coconut Oil)
•    1 tablespoon water
•    1/2 teaspoon salt
•    2 cups all-purpose flour plus 1/2 cup for rolling out (we highly recommend Berlin Natural Bakery's Whole Spelt Flour, try gluten-free flour to make this recipe gluten-free)
Directions
Beat eggs in heavy duty stand mixer, add coconut oil, water and salt. Continue mixing until coconut oil is broken up and evenly distributed. (It's not necessary to melt the coconut oil first). Add flour and continue mixing thoroughly. Dough will form a nice ball.
Put dough on a flat, thoroughly floured surface and roll out with rolling pin until it is thin, turning as needed, so flour coats both sides and dough is no longer sticky.
To cook, put into salted boiling water for approximately 3 minutes. Adjust cooking time if needed.
These noodles can be frozen uncooked, then used as needed. They're great for any noodle recipe like chicken noodle soup, or with a dish like beef burgundy or stroganoff.
Thanks for letting us share your recipes Healthful Pursuit, Eden Foods, and Coconut Recipes!