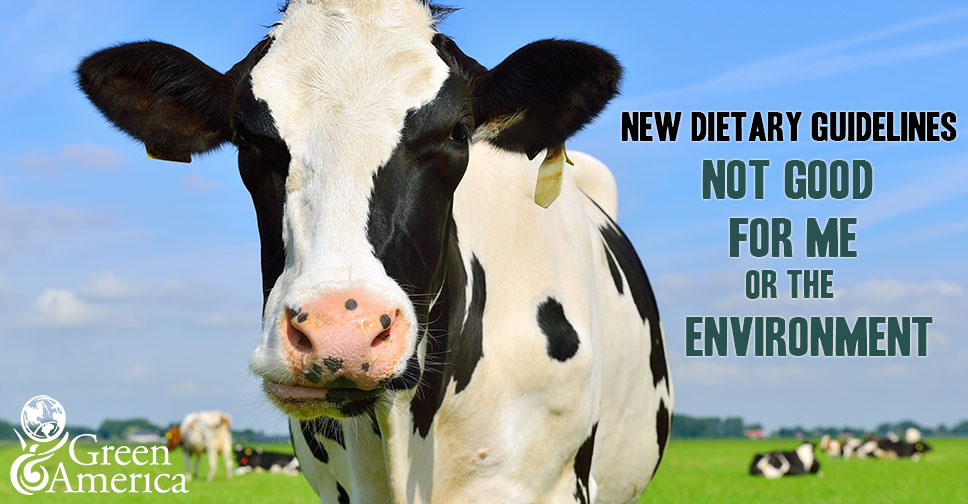 The 2015-2020 Dietary Guidelines for Americans were released today, but when it comes to making choices for your family about healthy meat consumption, they do not include everything you need to know.
This report, issued every 5 years by the U.S. Department of Agriculture (USDA) and the U.S. Department of Health and Human Services (HHS), is used by policy makers and many medical professionals when considering nutrition programs, such as the National School Lunch program and diet recommendations, like the food pyramid (now MyPlate). These guidelines greatly impact what Americans eat.
Much of the 2015 guidelines echo past recommendations to eat vegetables, fruits, and whole grains, though there were a few new recommendations, including:
Cut sugar intake: limit added sugars to 10 percent of daily calories
Cut sodium intake: limit sodium to no more than 2,300 milligrams per day
Notably absent from the guidelines are the recommendations that Americans eat less red and processed meat and shift towards a more plant-based diet.  Research by the World Health Organization and others has shown this is key to reducing the risk of heart disease, certain cancers, obesity and diabetes. This exclusion goes against the advice of more than 700 medical professionals, the comments submitted by over 21,000 Americans, and the actions of hundreds of U.S. mayors. Additionally, Green America and our allies submitted a petition to USDA and HHS that garnered more than 150,000 signatures in support of recommendations to reduce red meat consumption.
This exclusion also points to the power of the US meat industry, which fought hard to keep its reputation clean in this version of the dietary guidelines.
However, while the explicit recommendation to eat less red meat is missing from the final 2015 Dietary Guidelines, the recommendation to find protein from other sources, such as nuts, seeds, and fish, was included, which could help Americans trend away from meat-reliant diets. Additionally, the guidelines did point out that most American men and boys consume too much meat, and should reduce their overall intake of protein foods by consuming less meat, poultry and eggs.
Also absent from the Guidelines was the recommendation put forth by Green America and our allies to adopt environmental sustainability considerations for the guidelines, which could have had a tremendous positive impact on American's health, the environment, and on our ability to access healthy foods in the future. According to the EPA, agriculture in the US accounts for 9% of overall greenhouse gas emissions, and livestock, especially beef, is a major culprit. Conventional, grain-fed, feedlot beef produces five times more global warming per calorie, requires 11 times more water, and uses 28 times as much land as pork or poultry, as we covered in our Green American magazine.
Regardless of these Guidelines, many Americans are already shifting towards more plant-based diets. One in ten Millennials follows a vegetarian diet, forty-seven percent of the population eats at least one meal without meat per week, up from 40 percent six years earlier, and restaurants such as Panera Bread and Taco Bell are offering more vegetarian options. This is good news for the health of people and planet!
What are you doing to reduce the impacts of your diet on the planet and your health?