GMO Inside had the honor and pleasure of interviewing the influential and pioneering Marion Nestle.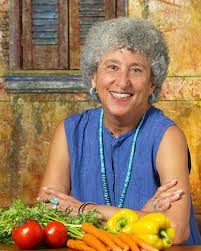 Marion Nestle is a Paulette Goddard Professor in the Department of Nutrition, Food Studies, and Public Health and Professor of Sociology at New York University. She is the author of Food Politics: How the Food Industry Influences Nutrition and Health, Safe Food: The Politics of Food Safety, What to Eat, Pet Food Politics: The Chihuahua in the Coal Mine, Why Calories Count: From Science to Politics, and most recently Eat, Drink, Vote: An Illustrated Guide to Food Politics.
She always reiterates that you should "vote with your fork, but even better, vote with your vote."
She posts on her own blog, foodpolitics.com, almost daily. On her blog, she discusses a fascinating and thought-provoking range of food issues, including school lunches, nutrition, food marketing, farm policy, and GMOs. She is incredibly well-respected in food politics and has helped the food movement grow to where it is today.
Q: What do you think of the word "natural"? Do you see the FDA approving a "natural" label for GMOs, at the urgency of organizations like the Grocery Manufacturers Association?
A: When it comes to food, the word "natural" has no regulated meaning, so it's open to wide interpretation. The FDA has stated explicitly that it is not getting into the GMO issue but will leave it to the courts to decide.
Q: In your opinion, why is America so behind in GMO awareness compared to the EU and many other countries?
A: Among other reasons, the foods aren't labeled so nobody knows whether the foods are GMO or not.
Q: How different would things be if the FDA approved GMO labeling back in the 1990's when you were one of four consumer representatives to the FDA's Food Advisory Committee?
A: Oh if only they had listened to us. There was already plenty of evidence at the time that the public wanted the foods to be labeled. We warned the industry and the FDA that if the foods were not labeled, the public would not trust the industry or the FDA. We were right. My only surprise is that it has taken so long to get to the point where there is widespread demand for labeling.
Q: You mention corporate control of the food supply frequently as being a major concern for public health.  Do you see a viable solution to dismantle the corporate control?
A: Not dismantling, but certainly regulatory checks and balances. Corporations did not always have the power they have now because they were checked by anti-trust regulations. If there were a political will, we could reinstitute some of those controls and better protect the public from corporate excesses.
Q: If corporate money bought Washington's I-522 initiative, what can non-GMO advocates do to win a labeling initiative? Is there hope?
A: My understanding is that at least 20 states are considering GMO labeling. The food industry spent nearly $50 million in California and $30 or $40 [million] in Washington to defeat the measures. They won't want to put similar amounts into 20 other states, and surely one of them will pass eventually. That's why the Grocery Manufacturers Association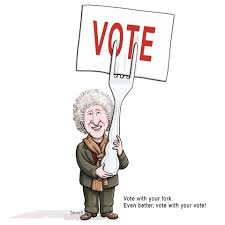 is proposing a voluntary GMO labeling initiative to head off regulation. The irony of this is not wasted on me.
Q: Where do you personally see the future of food and GMOs?
A: Farmers love them apparently, and they are unlikely to go away. If the industry is smart, it will create products that consumers want, make sure they are demonstrably safe before marketing them, and label them.
Thank you Marion Nestle for taking the time to speak with us!