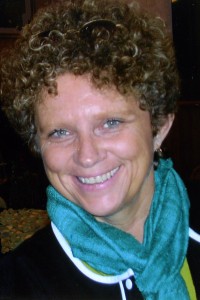 >Meet Denise Hamler, she is a co-founder of Green America (formerly Co-op America) in 1982, which helps people green their lives, green their businesses, and support high-impact campaigns to change the way America does business. The organization aims to advance a green economy that works for people and the planet, social and economic justice and for community and environmental health. In this interview, Denise chats with one of our business members, Naturepedic, about her journey for sustainable living.
How and why did you get interested in the environment?
I think being raised on a family farm in Ohio, during the 1950-60s, instilled in me a love for being outside with plants and animals. I still spend a couple hours a week walking in the woods without my cell phone. Living in the Washington DC area I am blessed to be surrounded by so much green space – hiking along an urban trail or kayaking on the Anacostia River is within minutes of my home. This keeps me connected to what is really important and reenergizes me for the hard work to save our planet. And now that I am a first time Grandmother my work has taken on a new urgency.
What was the first personal lifestyle change you made to live more sustainably?
During college I was part of the initial movement to start local food coops, organic gardening/farmer markets and was blessed to start my post college career on a 53 acre organic farm homestead outside Athens, Ohio. It was during those years that I started experimenting with growing our own organic food, starting green businesses, alternative healing and home birth and building passive solar homes. I discovered that this was how I wanted to spend my life and be my work! It was also at that time that I became aware of the social justice issues of migrant workers in California and I became active in the work of Cesar Chavez and the United Farm Workers. It was this work that first opened my eyes to the 'people' in my environmental work.
In 1982, I was fortunate to meet Paul Freundlich, who asked me to join in launching Co-op America (which became Green America in 2008). I left my beloved farm and have been working with Green America ever since – bringing green living to the mainstream and making strides toward more justice and sustainability.
In your opinion, what's the biggest challenge environmental movements face?
Making green products/options accessible and affordable. At Green America it's all about talking to people where they are and giving them options to have safe food, to end child labor, buy clean energy & tackle climate change, stop corporate abuse and support local communities. You can see how we do that at www.greenamerica.org and www.greenbusinessnetwork.org.
Why is protecting the earth so important?
It's simple – we only have one!
How can we teach the younger generations to respect the earth?
I am so inspired by young people – I feel they get it and are often our teachers. We hear so many wonderful stories everyday about what is happening across the country – I love to tell their stories. Tomorrow I will spend my Saturday in our community garden with over 30 high schoolers and their families. This is part of a very successful program to advocate for healthy eating – active living in our diverse community. Also a recent winner of Green America's People and Planet Award is Green Beginning Community Preschool they are a model program for pursuing zero waste and adopting green initiatives that educate children/families in developing awareness of the impact they have on our planet.
What is one thing everyone can change in their normal routine that will help the earth?
My personal favorite thing is that every Earth Day I resolve to take on one new EARTH DAY RESOLUTION and embrace that one thing all year. It makes it easy and doable to change your behavior. If you do this every year before you know you will have made huge changes in your life in making greener choices. It's easy to choose to make your own green cleaners or reduce your energy use or use your car less. One green step at a time adds up.
What is something you do regularly to help protect and respect the earth?
Learn something new! I suggest that people visit our homepage once a week – it always includes a new thing to embrace or recent victory that will inspire you. For example this week's headlines lead with: Hershey's Kisses GMO Sugar Goodbye; 8 Items Made with Sweatshop Labor; and Apple Could Easily Pay a Living Wage.
When it comes to driving the economy to greater justice and sustainability, the change always starts with YOU and Me voting with our dollars. As the 'demand' side of the marketplace, we are the pressure point for economic change.
All the past victories with Home Depot, Nike, Starkist, Dell, Apple, Hershey, General Mills and General Motors have one thing in common. They made significant change because consumers, you and me, demanded sustainable lumber, sweatshop-free sneakers, dolphin-free tuna, responsibly recycled computers, smartphones without poisoning workers, chocolate minus child-labor, GMO's out of Cheerios and more hybrids and electric cars.
But we still have work to do. There are still too many products made in ways that cause a world of hurt – human suffering, communities torn apart and environmental destruction.
Be sure to check out Green America and the great work the organization is accomplishing. What is something you do regularly to help protect and respect the earth?  And big 'thanks' to Denise Hamler for participating on our questionnaire!