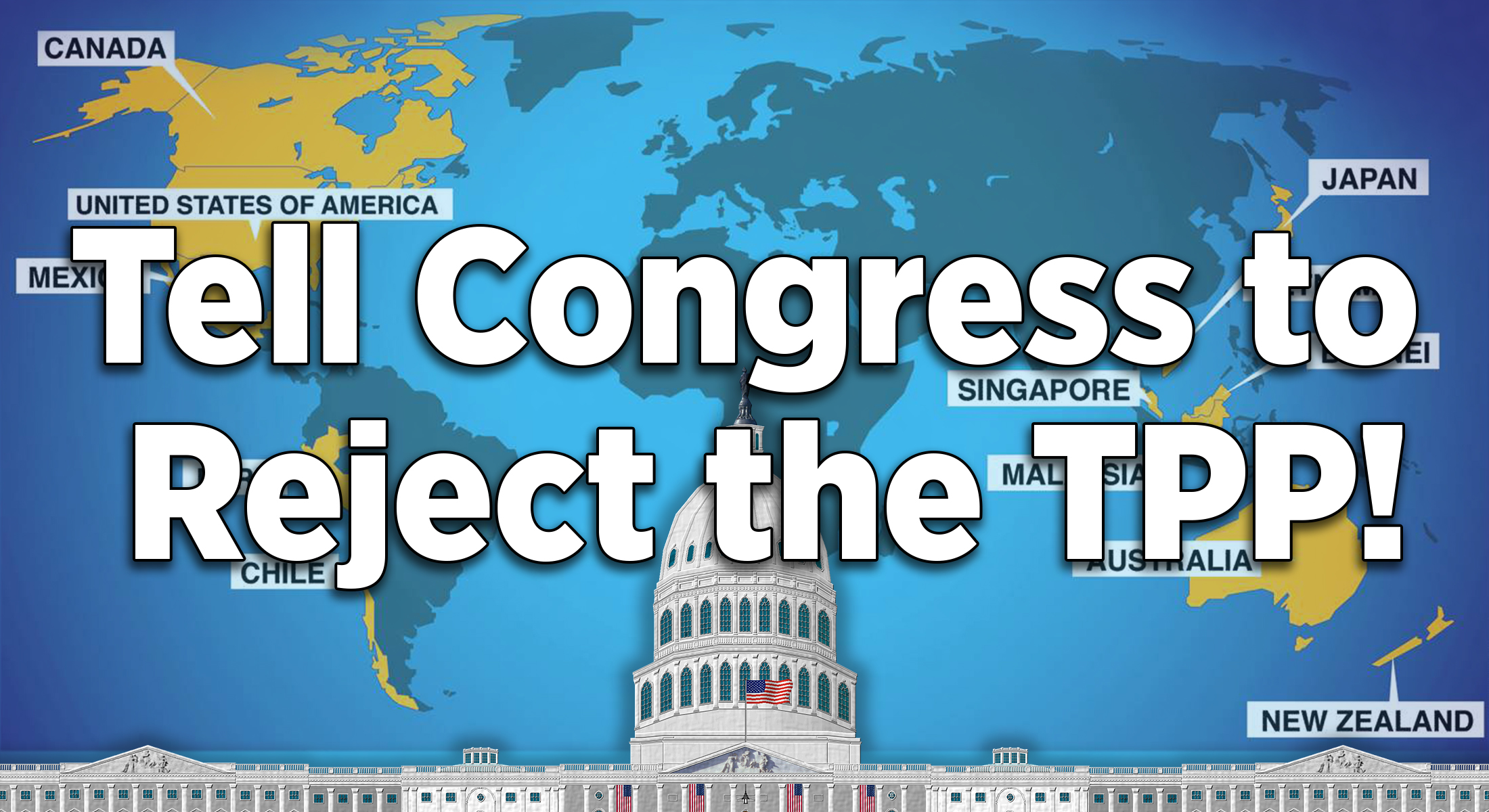 In 2009, Dow AgroSciences, the chemical and biotechnology company, sued and ultimately settled with the government of Canada for its attempt to protect its citizens' health with a ban on toxic pesticides sprayed on household lawns. The company claimed this regulation threatened its profits.
Unfortunately, lawsuits like this that put profits before people could be increasingly common if the Trans Pacific Partnership (TPP) agreement is passed.
On Monday, 12 nations struck a deal on the TPP. We only have 90 days to stop Congress from signing this toxic trade deal, which will negatively impact the environment, food safety, and workers' rights, and will impede our democratic rights.
It is imperative that concerned Americans and Congress stand up against corporate interests.
Tell your members of Congress to REJECT the TPP!
The TPP establishes its own secret court system which overrides national rights and threatens regulations—oftentimes put in place to protect the health and well-being of people and the environment—all for the sake of corporate greed.
Tell Congress to REJECT the TPP—an assault on democracy, replacing government by the people with corporate interests!
Proponents of the TPP claim it's a step forward for the environment but fail to point out that the agreement includes no clear-cut or enforceable environmental commitments. TPP will actually make climate change worse by increasing US exports of fossil fuels.
The TPP also places our global food system at risk by advancing industrial agriculture—dependent on toxic chemicals, artificial fertilizers, and genetically engineered seeds—and discouraging more local production. It also establishes stronger intellectual property rights for large biotech firms to claim further ownership of nature.
We have already seen the lasting negative impacts of free trade agreements like NAFTA on developing countries and our own lowest paid workers. TPP increases the trend towards poor labor practices, corporate greed, environmental degradation, and cheap consumerism.
Tell Congress to REJECT the TPP, a trade deal that jeopardizes the health and safety of people and planet.