Banktrack.org released an updated review of various financial institutions' holdings in dirty coal energy. Green America promoted a scorecard earlier this year outlining the banks that were the strongest supporters of coal extraction and electricity production. The lowest marks went to Wells Fargo (D+), Bank of America (D-), Citi (F) and Chase (F). Of course, each of these banks has committed to reduce the carbon impact of its investing and to increase investment in clean energy, but that has not weakened their support of coal. Based on Banktrack.org's latest data, not much progress has been made.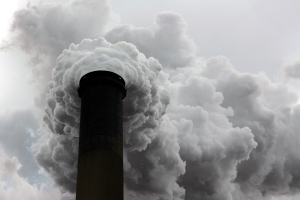 JP Morgan Chase (scoring the lowest among the coal-loving US banks) remains one of the largest offenders, providing $27 billion in coal financing from 2005 to 2014. Other American institutions, including Citi, Bank of America, Morgan Stanley, Goldman Sachs, and Wells Fargo are also featured in the top 20, securing the USA's spot as one of the largest financers of the global coal industry. The USA contributed 23% of global coal financing between 2011 and 2013, second only to China's 28%.
You can read all about the methodology used in the report here to get an idea of just how pervasive coal power is in the financial world. Coal is the single largest source of carbon dioxide emissions attributable to humans, and has been the fast growing energy source worldwide over each of the past ten years. The international Energy Agency asserts that 44% of global carbon emissions from fossil fuels come from coal, about 7.9 billion tons annually.
For an example of the destructive nature of the coal industry, we need not look further than the Appalachian Mountains, running from New England to the Southeast. Every financial institution mentioned by the report has a stake in coal mining operations in Appalachia, where mountaintop removal is the preferred method of production. Ancient mountains and the ecosystems they harbor are systematically blasted and carved away to access the coal below the surface. Mountaintop removal threatens not only the wildlife and ecosystem services endemic to this region, but the surrounding communities and the global climate as well. Similar destruction is happening worldwide, and accelerates as the demand for energy grows.
Without a way to viably and effectively provide energy to billions in the developing world, coal and its enormous associated emissions will remain the primary source and continue to grow globally with the help of large financial institutions. Even as the US and China have entered into an historic agreement on climate, they are both still financing coal overall. As a consumer of financial services, however, you have the opportunity to let these megabanks know that you reject their support of dirty energy. By Breaking Up with your Megabank, you can leave the coal financiers behind and support a local financial institution that works to serve communities and the environment.