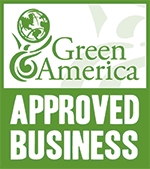 The Green America Seal of Approval is your key to many of the most effective marketing doorways – from the Green Festivals® to World of Good at eBay. Our new online application makes it easier than ever to apply for the coveted Seal of Approval.
We teamed up with iReuse, GBN member and sustainability software gurus, to launch "iScreen." It's a brand new, easy way to fill out the screening application to apply for the Seal.
You can get started right now –
2) Then just click on "register for a new account."
If you've been meaning to fill out the form, but have been putting it off, now is the time.
Approved members are eligible to exhibit at Green Festivals and are listed in the National Green Pages – print and online, which is the go-to site for thousands of mission-driven consumers.
Questions about the screening process or criteria? Please visit this page.
Questions about your company's eligibility or membership status? Please contact Senior Researcher, Tish Kashani at 202-872-5338 or screening@greenamerica.org.