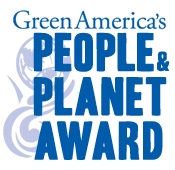 Opportunities to earn funding for your green business.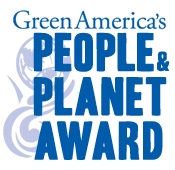 Green America's People and Planet Award
These awards are for innovative green businesses that work on behalf of people and planet. Each quarter has a different theme and invites nominations from the public.
Thanks to a generous Green America donor, the People & Planet Award provides three $5,000 prizes each quarter to deserving small businesses to advance their green principles.
Learn about past winners in clean energy and serving local communities.
Green Festival Ford Community Green Grant
Ford sponsors these awards at every Green Festival that support local, actionable, innovative ideas to build sustainability in each Green Festival city's community. It's an opportunity to earn $5,000 to impact your community.
The Ford Community Green Grant encourages local non-profit organizations and community leaders to submit their sustainable, forward-thinking ideas to improve the environment or quality of life in their local community. Ford and Green Festivals select a group of finalists to present at the Ford Pavilion at each Green Festival. Attendees vote for their favorite project proposal, and the winner is announced on the final afternoon of the festival. We'll update when application dates are available for this year's festivals. See last year's Green Grant application.
More Award Opportunities
Intuit's Love a Local Business - The competition for the $5,000 grants for small busiess lets fans, including customers, vendors, employees, and the community, determine who deserves some love.
Amber Grants – For assisting women who are trying to start small businesses, home-based or online. The grants are small, usually $500 to $1000.
Local Opportunities: Typically there are more grant programs for small businesses at the local level, especially with the increased focus on local sourcing. Review websites for state government, local government, economic development organizations, private corporations and foundations in your area or give them a call. Also listen to the webinar below from Association of Enterprise Opportunity – Green is also the Color of Money – to learn about other opportunities. Local SCORE offices may be familiar with programs in your area and the types of businesses for which these programs are best suited. (SCORE is a nonprofit association dedicated to helping small businesses get off the ground, grow, and achieve their goals through education and mentorship.)
Download this webinar from AEO:
Download the presentation:
Part I »
 Part II »