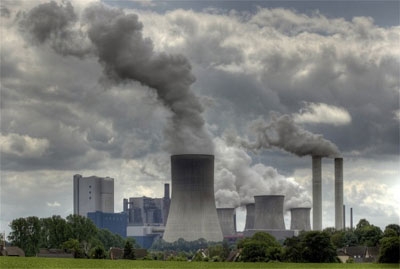 The EPA has been on a national listening tour to gain feedback about regulating emissions from existing power plants. Todd Larsen, Green America's Corporate Responsibility Director, spoke out to the EPA in favor. Here's the business case for regulation. From the Green America blog:
The Environmental Protection Agency (EPA) has been hosting a listening tour across the country to gain feedback from citizens and organizations about proposed regulations of carbon emissions from existing power plants.  Green America has already supported the EPA's proposal to regulate emissions from new power plants.  Now, the EPA is proposing to regulate existing power plants — a far greater source of carbon emissions in the US — particularly emissions from coal-fired plants.
At a number of listening sessions, the coal industry has presented testimony that EPA regulations of coal-fired power plants will harm the U.S. economy.  However, all of the evidence demonstrates that the opposite is true. The continued reliance on coal as major source of electric power in the U.S. is harming our economy and preventing job growth.
On behalf of Green America, I presented the following remarks at the listening session in Washington DC today.
Thank you for hosting these listening sessions across the country to receive input from Americans on the important issue of regulating greenhouse gas emissions from existing power plants.
My name is Todd Larsen, and I serve as the corporate responsibility director of Green America, a national non-profit organization with 170,000 individual members and 3,500 business members nationwide.  Our green business network is the largest network of certified green business in the United States.  Green America is also a member of the American Sustainable Business Council, which represents over 150,000 businesses nationwide.
On behalf of our members, Green America strongly supports the EPA using its authority under section 1119(d) of the clean air act to develop and issue standards by June 2014 to address carbon pollution from power plants.  We also support president Obama's directive to build on state innovations and leadership in reducing climate emissions.
The need to regulate carbon is clear.  Carbon emissions are at their highest levels ever and the effects of those emissions on climate change are now undeniable.  This impacts not only the environment, but also the economy.
Small business owners will be negatively affected by climate change.  From disruptions in their supply chains, to physical damage and disruptions of their operations from increasingly extreme weather, small businesses are at a high risk from rising greenhouse gas emissions.
That is why polling conducted by the American sustainable business council found that 63 percent of small businesses owners support EPA regulation of carbon emissions from power plants and 72 percent support incentives for clean energy.
Regulating existing power plants will help to protect small business owners and will be good for the economy in general:
According to data from Natural Resources Defense Council, reducing carbon emissions by 26 percent by 2020 would cost 4 billion dollars, but would create economic benefits of 25 to 60 billion dollars.  The benefits could outweigh the costs by a factor of 15.
These projected benefits would be in line with prior economic advantages from enforcement of the clean air act.  EPA analysis demonstrates that the benefits of emissions reductions from 1990 to 2010 outweighed the costs four to one.
EPA regulations of existing power plants will also spur greater innovations in clean energy technologies, which will boost the economy, job creation, and small businesses nationwide.
Several studies have found that renewable energy generation produces more jobs than fossil fuel sources of energy per unit of energy delivered.
Renewable energy jobs also are often better paying jobs and are much more likely to stay in the U.S.
Many of the clean energy jobs created – including manufacturing and installation – are housed in small businesses that are thriving and creating jobs across the country, including in regions that have lost jobs from the closures of traditional manufacturing facilities.
For all of the above reasons, Green America and its members support the EPA proposing strong carbon pollution standards for existing power plants.