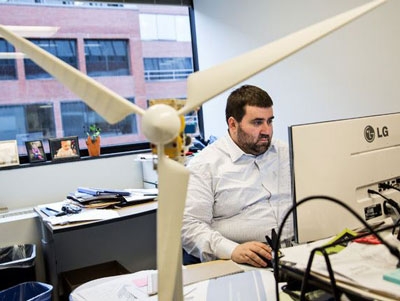 Tom Matzzie, founder of Ethical Electric, was profiled in the New York Times last month. The article, "Applying the Lessons of Politics to Green Power," highlights Matzzies experiences working on John Kerry's 2004 campaign and how he uses his work ethic and passions of "creating change" towards his new niche: renewable energy.
Ethical Electric provides customers an alternative to commercial electric companies by sourcing their electricity from renewable sources; the article clarifies that while providing energy for customers via one specific renewable source may be difficult, Ethical Electric puts all of the money they receive from electric bills towards renewable and alternative energy production.
The start-up actively supports and participates in the growth of the renewable energy industry, and works with the consumer based push for renewable energy in households and businesses.
Matzzie has embraced the growth of the industry as the driving force of his business and explains that "if you have lots of people standing up and saying they want renewable energy, that's also a cultural shift." Although deviating from the fossil fuel industry entails a higher price, informed consumers prefer the methods that do not add to the worrying rate of climate change, and create a bright future for companies like Ethical Electric.