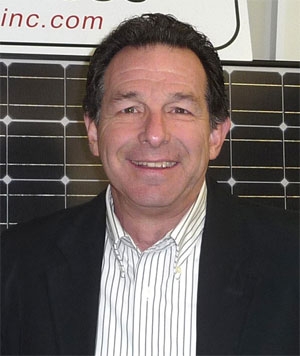 Meet Brandon Leavitt, owner of Solar Service, Inc., with 36 years of experience in Chicagoland solar installations. They go even greener than selling renewable energy—see how. As a regular featured speaker at our Chicago Green Festivals, Solar Service, Inc. owner Brandon Leavitt enjoys seeing his customers from 36 years of Chicagoland solar installations drop by to say hello.

"We've counted more than a dozen of our customers at the shows, some of them clients from 30 years ago whose solar systems are still going strong," says Brandon. We asked him to tell us more about his first solar installation and about his inspiration to start his solar company...
---
Green America: What does your business do and what are your most popular products?
Brandon Leavitt: Solar Service designs and installs both solar PV and solar heat and hot water systems for new and existing residential, commercial, municipal and multi-family buildings in the Chicago area.  Today, our most popular products are multi-family solar hot water systems and residential and commercial grid connected PV.
What makes Solar Service green?
Brandon: Obviously, by selling and promoting the use of renewable energy systems we are a green business at our core. Also, Our solar thermal panels are made in Florida and Minnesota.  The solar storage tanks are manufactured in the USA. The vast majority of our PV panels are produced and/or assembled in the USA.  We have never purchased PV panels made in China.
We are a 'family friendly' company where our employees' needs for flexible work time are respected.  We have always recycled our in-office plastics, glass, metals, batteries and paper.  We pay our refuse hauler extra for a bin to recycle cardboard.  Every year our holiday party is financed by the proceeds from the sale of leftover scrap copper, steel and aluminum from our installs.  Our crew plants a vegetable garden each spring outside our warehouse.  All our drinking water is purified on tap.  Our sales director drives a company-owned Prius.  And of course, all three of our company buildings are solar powered…both PV and thermal!