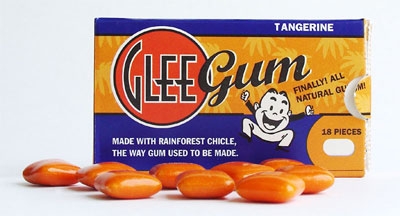 Glee Gum has been named a 2013 "Editors' Choice Food Awards" winner in Yankee Magazine's November/December issue, on newsstands now. The inaugural awards recognize favorite New England foods from the editors of the leading New England magazine. "It's an honor and a real point of pride to receive an Editors' Choice Food Award from such a respected, beloved, and longstanding New England magazine," says Deborah Schimberg, president and founder of Verve, Inc., producer of Glee Gum. "We're a small business based in a small state. But, we've got big ideas about the importance of providing natural, high quality foods. Recognition like this further strengthens our conviction that gum doesn't have to be junk food."
Check out the feature on the Editors' Choice Food Awards.
Glee Gum contains no artificial flavors, colors, sweeteners, or preservatives. It's the first gum to be Non-GMO Project Verified, and one of the last still made with chicle, a tree sap harvested sustainably to help conserve the rainforest.
Yankee Magazine founded in 1935, is the premiere New England travel, home, and food magazine, with a total audience of 1.7 million readers.
Verve, Inc., maker of Glee Gum, is an independent, certified woman-owned business, dedicated to creating environmentally and socially responsible products.