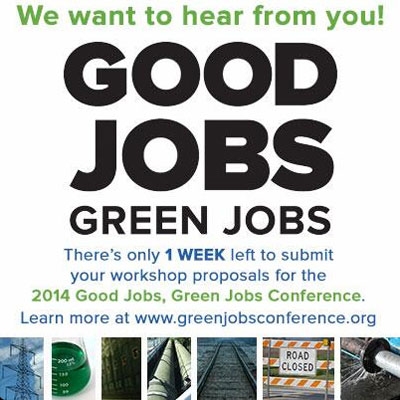 Join thousands of business and community leaders, union members, and environmentalists at the Good Jobs, Green Jobs Conference, Feb. 10-11, 2014 in Washington, D.C.
This year's Good Jobs, Green Jobs Conference is focused on repairing the systems Americans rely on every day, whether getting us back and forth to work, supplying our power, keeping us safe from storms and floods, communicating with police and fire during emergencies, or ensuring the institutions where our children learn are safe and healthy. It's time to repair these systems today to create quality, family-sustaining jobs, to address the threat of climate change, and to ensure the health and safety of our workplaces and our communities.
Green America is a Conference Convener. Our Director of Policy Fran Teplitz will speak at the conference, on the panel The Role of Business in Repairing America & Creating a New Economy. Other speakers include Amy Hall from Eileen Fisher, Frank Knapp with the South Carolina Small Business Chamber, and Richard Eidlin of the American Sustainable Business Council. See more of the conference program.
Learn more about the Good Jobs, Green Jobs Conference.