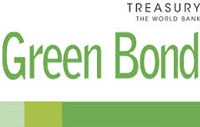 Are you looking for a secure investment which also supports meaningful environmental solutions? Look no further!
Green Century Funds, a leader of the socially responsible investing movement, invites you to invest with them in the World Bank's Green Bonds, which promote environmental sustainability across the globe.
"Like all World Bank projects," the World Bank website states, "[Green Bonds] are designed to reduce poverty and improve local economies, but specifically focus on tackling climate change issues that directly impact developing countries."
Green Century reports here that proceeds from the Green Bonds have supported a variety of climate change mitigation and adaptation projects including: generating alternative energy in rural areas of China, installing solar technologies, supporting improved water management, and funding upgrades to public transit which increase efficiency and reduce pollution.
Cheryl Smith, a Green Century portfolio manager, states here that "The World Bank's Green Bonds offer stable income and strong environmental solutions- something that can be difficult to find in fixed income securities."
If you're interested in investing in these Green Bonds, click here to be redirected to the Green Century website.