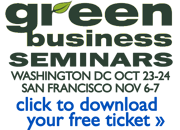 Join us at the upcoming Green Business Seminars and Eco-preneurs Showcase at the fall Green Festivals. Whether you are an established green business or just starting your sustainability journey, you'll find tools and resources here. Free to all green business owners.
Green Business Seminars at the Green Festivals
Thanks for joining us in Washington DC, October 23-24!
 
COMING UP: San Francisco: November 6-7
Upcoming seminars include :
Joey Shepp of  Earthsite and Brenda T. Horton of  HWare explore the social, environmental, and innovation benefits of social media.
Esther Park of RSF Social Finance and R. Paul Herman of HIP Investor on how to get financing for your business.
Karen Schiff of Ecobunga! on how to make a great green deal and build your consumer base.
Keaty Gross of the Green America Exchange on the first nationwide barter network exclusively for green businesses.
Make plans to attend the Green Festival's Green Business Pavilion!  All sessions and networking are free to Green Festival attendees.