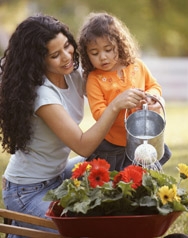 A report from EcoFocus Worldwide identifies a powerful $1.45 trillion market in the EcoAware Mom, representing 51 million women who are seeking sustainable choices for everyday living.
The report, based on the EcoFocus 2010 US Trend Survey of over 4,000 Americans from ages 18-65, shows a continuing parenting paradigm shift as mothers pursue greener choices for themselves and their children. They are turning to retailers, manufacturers, and service providers to help them reduce the complexities of leading eco-friendly lifestyles.
According to the report, EcoAware Moms are far more likely to believe they have a great deal of control over the health of their home and family than other moms. The top five things they're using more often are chemical-free cleaning products, organic foods and beverages, plant-based cleaning products, water filters, and resealable plastic bags.