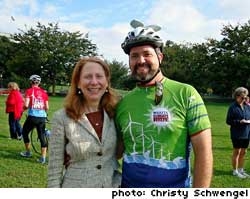 Join the Climate Ride online this week! Follow the adventure of our team and all participants for an inspiring bike ride through California to advance the green economy and science-based climate action. The 5-day fundraising ride for organizations taking climate action features acclaimed speakers and motivational guests. The ride supports the work of work of Green America, 1Sky, and Rails-to-Trails Conservancy. 
Peter Lehman, Founding Director of the SchatzEnergyResearchCenter and avid cyclist, will talk about his twenty years experience building the first hydrogen fuel cell car. Other riders include artist Chris Jordan, Nobel-prize-winning scientist Dr. Phillip Duffy, activist and war correspondent David Helvarg, Roz Savage, who rowed solo across the Atlantic, and Biggest Loser star Koli Palu.
Couldn't ride this year? Donate to riders and support our efforts. If you live in the Bay Area, meet the riders at the end of the ride at the Tour de Fat Festival in Golden GatePark.
Join the Climate Ride online - Get regular updates from www.climateridelive.org » 
Learn more about who's speaking on the Ride »