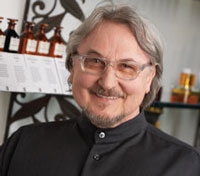 A tribute to Horst Rechelbacher of Aveda. Plus: What are our members up to lately to drive change and innovation? News from Naturepedic, My Conscience My Choice, Eileen Fisher, Alter Eco, and Portfolio 21.
In Memory: The green business community lost a true pioneer with the passing of Horst Rechelbacher, founder of Aveda and Intelligent Nutrients. We will deeply miss his inspirational leadership. Read a tribute to Horst and his impact from the Alliance For Sustainability.
Naturepedic founder Barry Cik testified to a Congressional subcommittee on the urgent need for toxic chemical reform. Read the testimony and join Naturepedic's efforts to lead in making products safer for all.
My Conscience My Choice is a new app for iOS devices that lets potential customers scan products and discover the best sustainable alternative to that type of product. Check out the video about the app in development, which will recommend products from Green Business Network members. Learn more about getting listed.
Eileen Fisher: What does it mean to live a value? And when you let values lead, how do they change your daily rituals? Watch this video to see how Eileen Fisher aligns product development with core values.
Alter Eco's fast growth and commitment to sustainability featured in The Guardian.
SRI: Domini's funds outperformed 2013 benchmarks and Green Century is going fossil fuel. Check out our interview with another fossil free leader, Portfolio 21. And here's a timeline of four decades of SRI history.