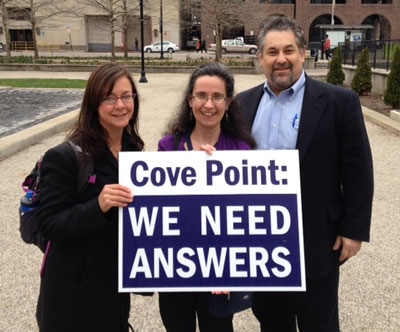 Green Business Network and Chesapeake Sustainable Business Council members are speaking out against the highly controversial liquefied natural gas (LNG) export facility at Cove Point on the Chesapeake Bay in Maryland.
Dominion's proposed Cove Point project will pollute Maryland's air and waterways, and divert funds to away from renewable energy and towards fossil fuel projects that are bad for the economy and the climate.
Fran Teplitz, Green America's Director of Policy, hand-delivered a business leaders' letter opposing the Cove Point project to the Maryland Public Service Commission urging the Commission to deny the certificate needed for this project by Dominion Power to proceed.
Fifty green Maryland businesses signed a joint letter to the Maryland Public Service Commission, with signers including Blue Moon Rising, Moon Shadow Cafe, Three Green Pears, and Financial West Group.
Climate change is exacerbated by greenhouse gases emitted throughout the fracking process, posing a number of challenges to businesses, particularly small businesses, such as supply chain disruptions, damage to infrastructure, and rising transportation costs.  Maryland's coastal communities will be heavily affected by climate change in particular.
Teplitz noted that "the urgency is now - in the latest U.N. report on climate change, it only adds urgency to all of our work to cut greenhouse gas emissions and promote renewable energy." More on the warnings in the U.N. report.
Fracking creates heavily industrialized landscapes, radically altering community character and crowding out economic drivers that are dependent on natural amenities, including tourism, agriculture, food and beverage, and recreation. Cove Point would steer resources to the fossil fuel economy and only produce 130 permanent jobs, whereas, for the same costs, the creation of offshore wind could result in 7,500 jobs.
Business owners, including farmers, pay higher prices for scarce resources like water and labor because of increased competition from drillers. Fracking has greatly reduced or eliminated property values, and is making mortgages and insurance policies difficult to acquire. If the Cove Point project proceeds, it will encourage more companies to expand fracking across our region, including in Maryland, where currently no drilling occurs.
This proposal will benefit neither the Maryland public nor our economy –only the gas industry will profit. Together with citizen letters, Green America helped to deliver 38,000 comments on the dangerous proposed project. 
Savitri Khalsa, Owner of Three Green Pears in Silver Spring, MD, said, "As a business leader and resident of Maryland, I oppose creating a fracked gas facility at Cove Point. I urge the Maryland Public Service Commission to consider all of the environmental damage inherent in this project. The Chesapeake Bay region is beautiful and fragile and not worth polluting for dirty energy."
Richard W. Torgerson, registered principal, Financial West Group in Westminster, said: "Now is the time for Maryland to focus on development of our renewable energy infrastructure, not on fossil fuel projects that threaten human and environmental health. The success of our economic future will rely on clean energy, and that is the sector in which we must invest."
Stephen Shaff, executive director, Chesapeake Sustainable Business Council, added: "This is not just a battle about Cove Point.  If approved, this massive project will surely put pressure on Maryland to permit fracking and expand fracking in neighboring states and more reliance on unsustainable energy systems.  At what point will we find the political will to stop decisions like Cove Point that mostly serve the interests of non-local industry at our economic and environmental expense?"
Chesapeake Sustainable Business Council is a business-led educational and advocacy organization whose mission is to promote sustainable business viability, awareness, and impact within the Chesapeake region (MD, DC and VA).