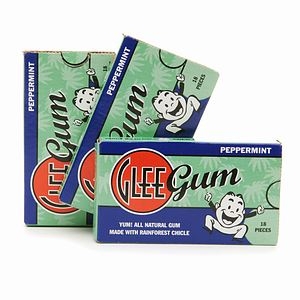 Verve, Inc. announced its full line of Glee Gum as the world's first Non-GMO Project Verified chewing gum.
Verve, Inc., maker of Glee Gum, is an independent, certified woman-owned business, dedicated to creating environmentally and socially responsible products.
GMOs, or "genetically modified organisms," are plants or animals that have been genetically engineered with DNA from bacteria, viruses, and other animals and plants. These experimental combinations of genes cannot occur in nature and have not been proven safe. Learn more about the dangers of GMOs and how you can fight them at Green America's GMO Inside Campaign.
Non-GMO Project Verification signifies that all flavors of Glee Gum have been produced in compliance with the Non-GMO Project Standard—following rigorous best practices for GMO avoidance, including segregation and traceability to prevent contamination.
"We believe in consumers' right to know when GMOs are in their food," Verve president and founder Deborah Schimberg explains. "And we hope that the US will join the 60-plus other countries around the world that require labeling. In the meantime, it was important to our company and our customers to seek Non-GMO Project Verification. We're thrilled to receive it, and consider it another great reason to feel good about chewing Glee Gum."
Since October 2011, Glee Gum has been a proud partner of the Just Label It! campaign, calling for the mandatory labeling of genetically engineered food.
Glee Gum contains no artificial flavors, colors, sweeteners, or preservatives, and does contain some Fair Trade ingredients. It's the only gum in North America made with chicle, a tree sap harvested sustainably to help conserve the rainforest.