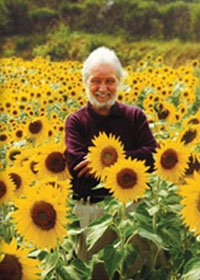 Aubrey W. Hampton, founder and CEO of Aubrey Organics, a GBN member for many years, passed away on May 9th after a brief illness. A true pioneer in natural hair and skin care, he paved the way for the natural products industry by making plant-based, synthetic free personal care products. Today, his hair and skin care line is sold around the world.
Growing up on an organic farm in Indiana, he watched his mother make her own herbal beauty products. In 1967, Aubrey founded Aubrey's Nature Labs with two products. A prolific writer, he wrote Natural Organic Hair and Skin Care, a text on herbal cosmetics products now in its sixth printing, and The Take Charge Beauty Book, co-authored with his late wife, Susan Hussey.
In addition to his work at Aubrey Organics, he enjoyed a second career as an award-winning playwright and theatre producer. In 1990, he founded the Gorilla Theatre in Tampa, FL with Susan, also a playwright.
GBN director Denise Hamler spoke about Aubrey, "There was no one more passionate about non-toxic skin care – it is Aubrey's pioneering work that paved the road for the success of this industry. As we work on the Federal Safe Cosmetics Act of 2011, we know this is important work to safeguard our families against harmful chemicals. His presence will be missed. Our condolences go to his family and extended families at Aubrey Organics and Gorilla Theatre."