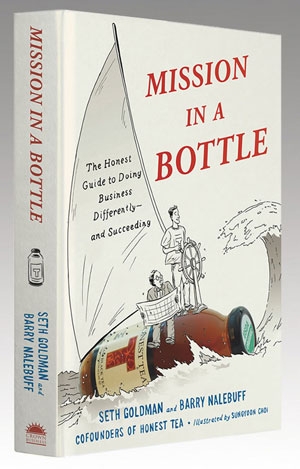 Honest Tea's co-founders share how they built their mission-driven business in the innovative new book Mission in a Bottle, which tells their entrepreneurial story in a vivid comic book format.
The new book, Mission in a Bottle, The Honest Guide to Doing Business Differently, and Succeeding, is on sale at independent and chain bookstores across the country, and available at Amazon.con.
The graphic novel format invites a whole new audience of businesspeople and future entrepreneurs to learn from the visual storytelling skills of co-founders Seth Goldman and Barry Nalebuff and illustrator Sungyoon Choi.
Seth and Barry, as they prefer to be called, launched Honest Tea together in 1997, when they realized that they were thirsty, but couldn't find anything to drink that wasn't too sweet.
Figuring they weren't alone, they forged ahead in building a new beverage business from the ground up, using freshly brewed tea leaves and little sweetener. Today, Honest Tea is one of the most successful and well-known green businesses in the food and beverage industry.
As Seth describes, the book "captures the challenges of building a mission-driven business in a profit-driven world, while also sharing the personal and family experiences that are part of the journey. This is not your typical business book!  Not only is the story told in comic book form, but we are hoping that the story will 1) inspire readers to start brewing up their own ideas and 2) help people understand the creative role business can play in improving our society."
Mission in a Bottle doesn't shy away from the darker side of starting a business, sharing "some of the personal struggles any entrepreneur inevitably faces while trying to balance the demands of raising a company and a family." The book provides the kind of true tales and advice that the co-founders wished they could have read prior to launching their business.
Learn more about the new book at MissioninaBottle.net, where you can check out a free chapter. Or watch the book trailer to get immersed in the world of Mission in a Bottle: