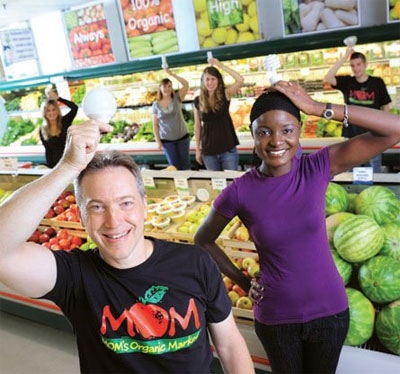 MOM's Organic Market was one of twelve winners in the Top Right to Know Grocers Contest, a campaign to celebrate grocers that excel at informing customers on GMOs and offering GMO-free choices.
The Organic Consumers Organization launched its Top Right to Know Grocers contest as a project of its Organic Retail and Consumer Alliance (ORCA) Campaign. Consumers were asked to nominate health food and natural health stores, food co-ops and CSAs that are making an honest effort to inform consumers about products they carry that contain genetically modified organisms (GMOs), and those stores that are actively working toward GMO-free product lines.
MOM's Organic Market, local to Maryland, was named one of the Top 12 winners. The grocer's mission is to protect and restore the environment. MOM's works in the local community to support green initiatives and provides comprehensive benefits for staff which include rebates for purchasing hybrid cars. See the actions MOM's commits to as a green grocer.
More than 360 consumers nominated a total of 156 stores. OCA interviewed store owners and managers to confirm strategies and policies. With the passion of consumers driving it, the contest evolved into a resource for grocers who want to share success stories and strategies for implementing GMO-free and GMO labeling policies. OCA plans to expand this resource over the coming months to include toolkits for grocers who want to implement new policies, or refine existing ones, and improve their communications with food producers.
Grocers who are committed to providing customers with GMO-free, local, food are supporting a complex, interdependent local food system. Many grocers make a real effort to educate consumers, through signs in stores, newsletters and their websites. In some cases, by posting "contains GMOs" on shelves below GMO products, stores are putting the well being of their customers above sales and profits.
Most stores nominated take part in the the Non-GMO Project, a non-profit organization committed to preserving and building the non-GMO food supply, educating consumers, and providing verified non-GMO choices.
OCA also gained insight into the challenges grocers face, including:
GMO prevalance in multi-ingredient food products.
Difficulty in sourcing GMO-free supplements, health, bodycare, and gluten-free products.
Supply chain challenges for food producers and manufacturers.
Exceptions needed for local producers that cannot afford organic certification.
Keep up to date with the latest efforts to secure the Right to Know what's in our food supply at Green America's GMO Inside Campaign.
Photo credit: Bethesda Magazine