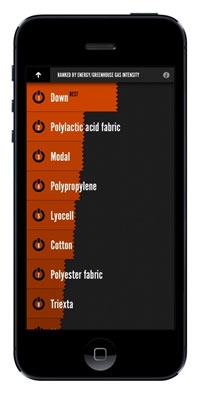 Nike is launching a free mobile app called Making that allows designers to research fabrics or materials, tapping into years of Nike research into sustainability.
Making, available initially for Apple iOS, works by allowing designers to research fabrics or materials they'd like to use. The software publicly exposes information from an internal database amassed over the past eight years, the Nike Materials Sustainability Index (MSI), which has also been embraced by the Sustainable Apparel Coalition as part of its Higgs Index.
The app has a use for consumers, too, who could access it to check out the materials choices that their favorite apparel brands are making.
Nike's MSI was originally created for internal use, but the company decided to open the information to other designers to accelerate creation of sustainable products. The app offers feedback on the environmental impact for 22 commonly used apparel materials in four different areas: water consumption, chemistry, energy and waste. Get more details on the Nike sustainable materials app Making from GreenBiz.com.
The Sustainable Apparel Coalition represents 80 leading apparel and footwear brands, retailers, suppliers, nonprofits and NGOs, that work towards reducing the environmental and social impact of the fashion industry.