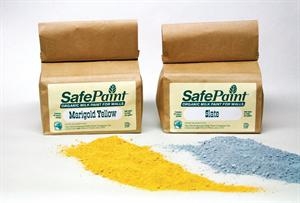 The Old Fashioned Milk Paint Co., Inc. has earned USDA Biobased Certification for its Old Fashioned Milk Paint, the first paint to receive this certification. The USDA Certified Biobased Product Label verifies that the paint's renewable biobased ingredients meet or exceed USDA standards.
Biobased products are materials composed of agricultural, forestry, or marine materials. Old Fashioned Milk Paint and the company's newest formula, SafePaint for walls, are made from natural materials including milk protein, crushed limestone, clay and earth pigments.

"We are pleased to take part in the USDA's Biobased Labeling program, and hope it will further set our natural paint apart from the many chemically produced paints currently on the market," said Anne Thibeau, President.

According to the USDA, consumers can feel secure in the accuracy of the biobased claim and can make better informed purchasing decisions. The USDA is the lead agency for both the voluntary labeling and Federal preferred purchasing programs.