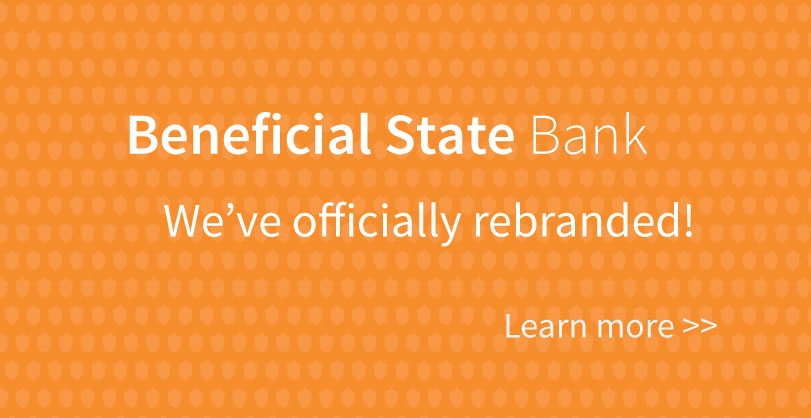 OnePacific Coast Bank is now Beneficial State Bank. The bank that services our Green America credit card has announced a name change to reflect their triple bottom-line commitment.
From Beneficial State Bank CEO Kat Taylor's announcement:
We teamed up with fellow B Corporation, Free Range Studios to develop an identity that reflects our vision, mission and commitment to our triple bottom-line, rather than merely the geographical region we serve. Today, we launch our new name -- "Beneficial State Bank" OR "Beneficial State" -- which reinforces our aims in multiple ways.

Consistently, we strive to be a bank that is "beneficial" to people and the planet as opposed to extractive. Our truly unique ownership model helps ensure we act in the best interests of these constituents. All of the economic rights of Beneficial State Bank are owned by our non-profit, Beneficial State Foundation, which is mandated to re-invest all profits, whenever distributed, back into the low-income communities we serve and the environment upon which we all depend. In our theory and experience, this ownership model aligns our incentives with the triple bottom-line and the values of our bank customers. At the same time, it protects the bank from the pressures of private shareholders to insist upon profit maximization that often comes at the expense of our triple bottom line values. This model ensures more beneficial outcomes for all. 

Additionally, by providing "beneficial capital," we're change agents supporting transformative actors and sectors that are forging the new economy. We believe an entirely different economy is possible and it will rely on an entirely different kind of banking system. While an economy that delivers health, happiness and prosperity for all is still just over the horizon, the seeds of its banking system are already here.
Are you looking for a credit card that supports your values? See the Green America credit card and other options provided through Beneficial State Bank.