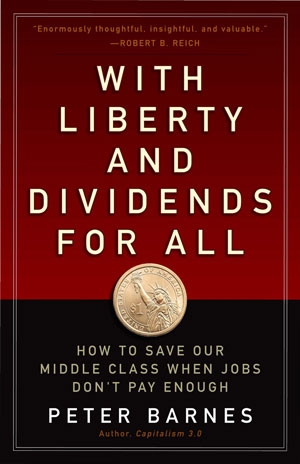 Peter Barnes, author and innovator, has just released his new book "With Liberty and Dividends for All: How to Save Our Middle Class When Jobs Don't Pay Enough." Barnes discusses the shrinking of the middle class due to scarcity of high-paying jobs, and the major effect that globalization has had on this issue.
Barnes proposes creating a nationwide dividend program, similar to Alaska's "Permanent Fund," that would provide Americans with a means to gain capital through property income.
"With Liberty and Dividends For All" stimulates the conversation on inequality in the US, and proposes a new method of thinking. It offers solutions to the problem of the declining middle class, and emphasizes the need for universal dividends that will influence a thriving economy.