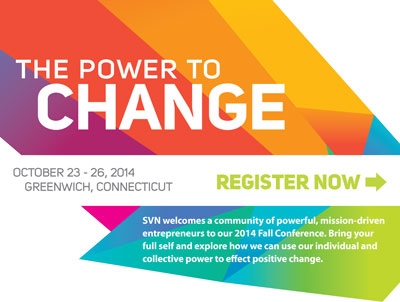 The Social Venture Network (SVN) is hosting its Fall Conference in Greenwich, CT from October 23-26. The conference presents an opportunity for attendees to learn about social entrepreneurship and hear from experts about the importance of making an impact through social ventures.
The theme of the conference is "The Power to Change" and is geared to inspire and educate those who attend. Speakers include Linda Mason of Bright Horizons Family Solutions and Nikki Silvestri of Green For All, and a variety of other industry leaders that have prepared to share their experiences in the world of entrepreneurship. SVN will also hold the 2014 Innovation Awards during the conference which showcase and honor the next generation of visionary social entrepreneurs.
Early Bird registration rates are $780 for SVN members, $980 for SVN affiliates, and $1,280 for non-members. All SVN members are invited, so make sure to renew your membership or apply for a new membership soon to attend the Fall conference.
Register here for the SVN Fall Conference.