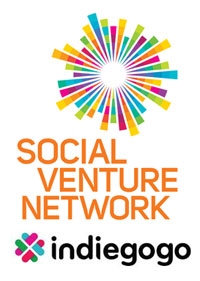 Social Venture Network is partnering with crowdfunding platform Indiegogo to showcase groundbreaking projects from social entrepreneurs. Here's three great campaigns seeking funds.
Indiegogo empowers ideas and enables people to vote with their dollars, and will now feature the SVN Indiegogo partner page.
Check out three great crowdfunding opportunities:
Greyston Bakery provides jobs for society's most disenfranchised members: the homeless and formerly incarcerated. Their campaign is raising money for new equipment that will increase the bakery's output – and create 15 more jobs for people who need them most.
Thanks to the Fair TRACE TOOL, consumers can actually see the person who made their clothes or grew their food. Indigenous Designs, Alter Eco and Worldways Social Marketing are working to share this technology with other socially conscious businesses that can't afford it on their own.
SVN's own campaign will Triple the Triple Bottom Line by leveling the playing field for women entrepreneurs and entrepreneurs of color. These leaders' ventures are harnessing the power of business to change the world, but they often lack access to the connections and resources to grow their social enterprises. SVN's campaign funds scholarships and valuable support services to help them expand their impact.
Click, donate and share! To set up your own crowdfunding campaign, email Kate Worteck at katew@ svn.org.