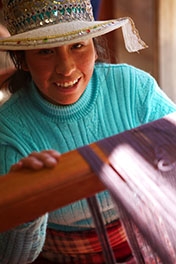 Indigenous Designs and Alter Eco have launched a fundraising campaign to support the Fair Trace Tool™, which promotes Fair Trade and global supply chain transparency. 
Shoppers can use the app to scan a QR code on hang tags and learn about the origin of products, plus meet the global producers.
FairTrace uses mobile-enabled web technology to let shoppers see where products originate, how fibers were raised and how food was made, to meet the artisans who hand-make them, and to learn about companies' positive social impact.
Thanks to the Fair TRACE TOOL, consumers can actually see the person who made their clothes or grew their food.
Indigenous Designs, Alter Eco and Worldways Social Marketing are working to share this technology with other socially conscious businesses that can't afford it on their own.
TheFair Trace Tool™ offers a brand video, artisan profiles, an origins geographical map and social impact data, including results of artisan workforce surveys.
This year, nearly every garment from Indigenous comes with a QR code attached that makes it possible for consumers to meet the artisans who make their fashion, see a map of supply sourcing, and read about the social impact of their purchase.
The tool was created with the help of RSF Social Finance,Worldways Social Marketing, SourceMap, Good World Solutions and the Grameen Foundation.
Now these green business leaders are looking for crowdfunded support to help Fair Trade brands access the tool, and to fund social impact studies that prove the astounding value of Fair Trade in the lives of artisans and farmers.
Learn more about the campaign and watch a video on Fair Trace technology »
Ifyou're interested in partnering to share this platform and technology, and in elevating Fair Trade and organic standards, contact James Roberts @ james@ indigenous.com.