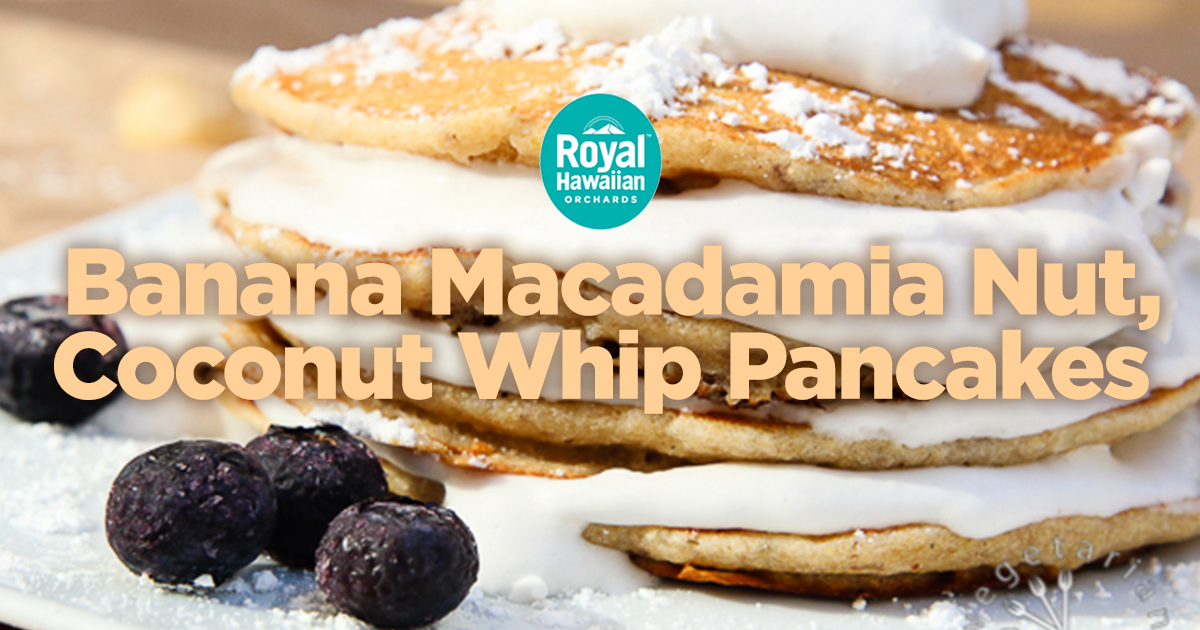 While we know all of you drink responsibly, some of you may have had a few too many of those White Green Tea Punch Cocktails last night. Lucky for you, we have a recipe for delicious pancakes! Weekends in the summer are all about waking up slowly (for whatever reason). Going out to brunch or breakfast is always a nice treat, but it can be even more special (and physically necessary due to the cocktails!) to stay home and whip up some pancakes from scratch. They are so easy to make and taste just as good (if not way better) then anything you can get at a restaurant. These banana macadamia nut pancakes are sure to make everyone happy (including your ailing head and tummy). They are best topped with some fresh fruit (berry season is finally here!) from a local farmers market!
Banana Macadamia Nut Pancakes with Coconut Whip via Vegetarian Gastronomy
* Use organic, non-GMO ingredients whenever possible.
Ingredients:
½ cup chopped Royal Hawaiian Orchards macadamia nuts
Powdered sugar, to sprinkle on top
Blueberries or strawberries (or both!)
Coconut oil cooking spray (or any other cooking oil)
1 ½ cup pastry flour
1 ½ tablespoons ground flaxseeds
2 teaspoons baking powder
¼ teaspoon salt
½ cup mashed bananas (measured after mashing)
¼ cup unsweetened applesauce
½ teaspoon vanilla extract
2 tablespoons coconut oil, liquid form
2 tablespoons pure maple syrup
1 ½ cup organic coconut milk
Preparation:
In a medium mixing bowl, whisk together all the dry ingredients. In another larger mixing bowl, whisk together all the wet ingredients (be sure to leave the macadamia nuts, coconut whipped cream, powdered sugar, and fresh fruit out).
In small batches, add the dry ingredients to the wet ingredients, and whisk until fully combined, being careful not to over-mix. Fold in the chopped macadamia nuts. Let the batter sit for 5 minutes as you heat your non-stick pan to medium heat.
Lightly grease the pan or griddle. Pour some batter onto the preheated skillet and quickly spread the batter out into a circle by tilting the pan a little in a circular motion. Cook until you start to see some bubbles appear and the edges of the pancake start to become firm and brown in color.
Flip the pancake and cook on the other side until the pancakes are golden brown in color on both sides and completely cooked. If you feel like the pancakes are cooking too fast, feel free to lower the heat if needed. Repeat to cook the remainder of the pancakes.
To serve, stack 3 pancakes with a layer of coconut whipped cream in between each pancake. End with a dollop of coconut whipped cream on top of the stack, sprinkle some powdered sugar on top (if using), and serve with butter and pure maple syrup instead of the coconut whip cream if desired.
This post is sponsored by Royal Hawaiian Orchards. Thank you for supporting the brands that support us. GMO Inside is a non-profit campaign and we are thankful for the brands that support our work to change the food system.