Written by Laura Pakaln, a Climate Victory Gardener in Rockland County, New York. 
I have been gardening nearly all of my life, incorporating best practices of organic gardening every step of the way. Over these many years, I've come to realize that it's not just about the food I am eating but the impact that these practices have on an entire ecosystem.
For the past five years, I have been actively involved in helping to create three Monarch Waystations. These waystations provide host plants where Monarch's lay their eggs. Once the caterpillars emerge from the eggs, they eat the plants' leaves, and the flowers ultimately provide a source of nectar for butterflies. Milkweed alone can meet all of these needs—that's why it's a plant commonly associated with pollinator gardens and monarch butterflies. 
One of the biggest threats to monarch butterflies is habitat loss. Monarch caterpillars eat only one type of plant, milkweed. Anytime meadows are destroyed—for example to build new homes and buildings—landscapers tend to plant grass around these new developments instead of creating new pollinator habitats. Milkweed is also increasingly mowed away from roadsides and killed by herbicides along fencerows, so it's up to gardeners to reintegrate this habitat into our human-altered ecosystem.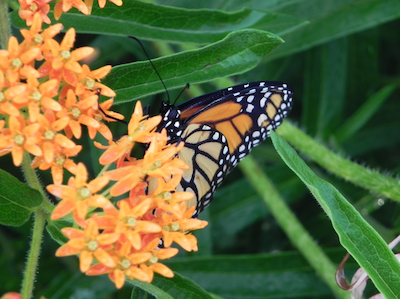 There are a number of milkweed varieties that can be planted to serve as host plants for monarchs, as well as nectar sources. But to be on the safe side, it's good to provide other sources of nectar to help fatten up those butterflies for their long trip south to Mexico or wherever their destination may be. These species include coneflower, wild bergamot, Joe Pye weed, phlox, zinnias, and Mexican sunflowers.
Two of the waystations I've worked with are planted next to organic vegetable gardens and are registered with Monarch Watch, an organization that monitors monarch populations with the help of citizen scientists and provides information on how to help them. The third garden is in Bear Mountain State Park in New York and is a pollinator garden with milkweed and educational signs for their many gardens and exhibits. These three gardens are also registered Climate Victory Gardens, because they incorporate important environmental practices that fight climate change like improving soil health, encouraging biodiversity, planting perennials, and ditching chemicals. 
Monarch Waystation at Bear Mountain State Park
The Trailside Museums and Zoo at Bear Mountain, New York, have a number of pollinator gardens, but the largest one contains a wide variety of perennials (bee balm, purple coneflower, asters, catmint, etc.) including shrubs (such as nine bark) and milkweed that attract different types of pollinators. There is always something blooming throughout the growing season, which provides an ongoing supply of nectar for pollinators. Also, different pollinators are attracted to different shapes and colors, so it's important to have something for everyone. Besides producing food for pollinators and other wildlife, perennials pull carbon from the air and store it in the ground. For tips on creating a pollinator garden of your own, visit The Xerces Society.
Monarch Waystation at Rockland Country Day School
At Rockland Country Day School, a small private school in Rockland County, NY, the children learn about organic gardening in our very large, hands-on garden. As the school's organic garden instructor, I teach them about the importance of soil management, composting, how seeds grow and the importance of pollinators. Pollinators produce three out of every four bites of food we eat. At the school, we are limited in what we can grow because of the school's schedule, so we mainly grow lots of fast-growing plants in fall, then again in summer. We also plant a crop of garlic. Bunnies usually harvest our strawberry beds. Adjacent to our raised garden beds is a very large perennial garden with a huge amount of common milkweed. The students have learned how to identify male and female monarch butterflies and have participated in tagging them and recording their tag numbers during their fall migration. The information we gather is then sent to Monarch Watch.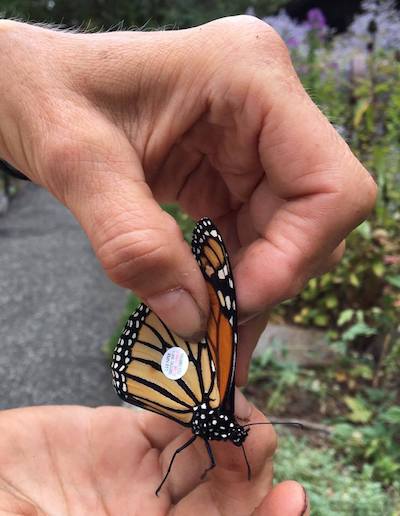 Monarch Waystation at Nyack Community Garden
In the town where I live, Nyack, NY, we are very fortunate to have a community garden, which has been operating for over thirty years. For a small fee, a gardener can "rent" a full or half-plot of soil in which to grow veggies and flowers. It is so popular, that there is almost always a waiting list for new members. I have been a member for around ten years. During this time we have experimented with planting a cover crop during the winter. We would like to make this a common practice because it is better for the soil, but we have yet to come to a consensus.  Growing a cover crop would mean closing the garden a week or two earlier than we do now, and people like to leave their kale in the ground for as long as possible. Directly outside of the fence, where the approximately 50 plots are located, is our Monarch Waystation. It is a large, oval-shaped garden that is planted with perennials and several types of milkweed.  
In all three of these gardens, it is very common to see the third-generation monarchs coming in to lay their eggs. It is also common to find their chrysalises, which contain the fourth generation of monarchs that will travel the great distance to Mexico. It is for this very reason that the fourth generation of monarch butterflies lives longer than all of the other generations. I find this tiny creature's journey so amazing and awe-inspiring; perhaps this is the reason why I have been developing these Monarch Waystations in the first place. Creating these places for monarchs is really such a small thing to do, but I know that my efforts combined with the efforts of other waystations make a difference for this species, which has a much larger implication for the natural world.
Register your Climate Victory Garden.
Register your Monarch Waystation. 
Read more inspiring Climate Victory Garden stories and tips.