Certification FAQ
Get the details on Green America's Green Business Certification, including answers to your questions on how to be eligible, how the process works, how you may use the Green America Seal once your company has earned it, and more. If you have specific questions for your company, please contact us.
Certification Overview & Eligibility
What is Green America's Green Business Certification?
Conscious consumers look for authentic seals that stand for businesses deeply committed to both environmental and social justice. Green America's Green Business Certification is one of the oldest and most reputable consumer trustmarks in the marketplace and the first to include both social and environmental criteria.
It is also holistic in another way – we examine the entire business's practices and policies, not individual products or corporate divisions.
Green America's Green Business Certification offers consumers assurance that businesses bearing the Green America Seal have met industry-specific standards relating to the environment and social justice. The Certification offers businesses a thoughtful, efficient way to earn a meaningful consumer-facing business certification.
How does your Certification differ from other Certifications?
Green America's Green Business Certification is only awarded to companies who are leaders in both environmental and social sustainability. Companies with the Certified Seal and the Gold Certified Seal are reviewed by experienced staff.
Green America is home to both the Green Business Network and a consumer association of over 200,000 households. Green Business Certification gives you direct access to the most committed green consumers in the nation. Please note that we only award Green Business Certification to companies, not brands or divisions thereof, though companies may advertise whatever part of their company they wish.
What are Green America's Green Business Standards?
Review our general standards by industry.
When is the right time to apply?
Before applying, we request that your business has a website, has green practices in place, and has been fully operational for at least four months.
To be considered for Gold level Certification, your business must be fully operational for at least six months.
Two exceptions for Gold:
If your business has a network marketing (MLM) structure, your business must be operational for one full year before applying and must provide additional documentation. The home office must apply, not an associate.
If your business has a franchise model, your business must have at least one established franchisee and must provide additional documentation.
If you wonder whether you qualify, give us a call at (800)58-GREEN or email certification@greenamerica.org.
Is my business eligible to apply?
Several factors impact a business's eligibility for Green America's Green Business Certification. We'll list them here, but don't disqualify yourself. If you have questions, give us a call at (800)58-GREEN or email certification@greenamerica.org.
The most common factor is the age of your business. You can apply to be certified if your business has been in operation for at least four months, has a website, and has put green practices in place. To be considered for Gold level Certification, your business must be operational for at least six months.
The second most common factor is company ownership. If you are a franchise, MLM, brand, or division, the parent company must submit the application.
Subsidiaries that meet our standards may be certified, even if the parent company does not meet our standards, if those subsidiaries have their own sustainability criteria that meet our standards. Brands, which are fully part of a company with no separate governance structure like a subsidiary, do not qualify for our certification unless the parent company qualifies.
Reasons for ineligibility include :
If a business operates in any of the following industries: weapons, pornography, gambling, gas/oil/coal/nuclear, or tobacco.
If formal legal complaints exist in these areas: product integrity, worker/labor abuse, fraud, or financial mishandling.
If a product base is primarily composed of or uses significant amounts of the following:

Conventional products with no extraordinary sustainable aspect or contribution to community/workers/customers; or,
More toxic chemicals such as pesticides, "poison plastics" like PVC and vinyl, chlorine, PFOA (non-stick coatings), or industrial chemicals.
The Green Business Network is currently utilizing the Precautionary Principle with regards to nanotechnology and Genetically Modified Organisms. Cosmetic and body-care companies that include nano-particles in their ingredients should contact our Standards Department at certification@greenamerica.org.
Do I have to go through the Certification process to be a Green Business Network member?
It is not mandatory for Green Business Network members to become certified. However, it is the only way to be listed in the National Green Pages®, GreenPages.org, and to advertise to our members.
Companies, however, need to ensure their Green Business Network membership remains active (by paying timely dues) to maintain certification.
Can I use my Certification towards Benefit Corporation status?
Yes! The Green America certification meets the third party standards for annual benefit reporting outlined in the legislation for each state. Learn more about Benefit Corporations.
---
Green America Seal Use
How do I display the seal on my website?
You must display the Seal linked to Green America's information on certification using code provided by Green America.
Log in to your Member Dashboard to to access seal resources or contact certification@greenamerica.org.
How and where can I display my seal?
The Seal may be used:
on your website
on brochures and printed business collateral such as letterhead or business cards
on product packaging or hangtags
at retail locations, the seal may be placed in the store window, on in-store signage, and displays
on your banners or poster displays
in your business-specific advertisements
in an e-mail newsletter
directly on your products
The Seal may NOT be used:
to denote safety or quality of a specific product
as an endorsement of an individual as separate from their incorpo­rated business (i.e. The business seal is to be used by Bob's Shoes, but not by Bob)
with any modifications of the seal itself (text or image portions)
Are there ways to "lose" the seal?
Yes, several factors result in a review of a Certified Member business's practices.
A review may be triggered by a change in the following: ownership, industry standards, or business's operations (such as business model or supply chain). Serious and/or multiple complaints can instigate a review. The Director of Standards and Certification leads the review process. It includes recertification and may include interviews.
Companies need to ensure their Green Business Network membership remains active (by paying timely dues) to continue using the seal. This level of due diligence is why ethical shoppers use our GreenPages.org online directory.
For all questions regarding certification, please call us at (800)58-GREEN or email certification@greenamerica.org.
What does the current version of the seal look like?
We released a new design for the Green America Seal in 2016 for Green America's Green Business Certification. The fresh new look better profiles the social and environmental attributes of your green business to consumers. Our new design reflects the goals of the FTC Green Guides, aimed at ensuring that environmental claims made by businesses are legitimate and green. Green America's Green Business Certification helps businesses go green every day to build an economy that works for people and the planet. The following seals are current, approved, and correct to display to share your Green Business Certification: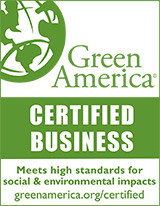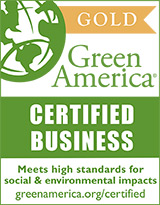 ---
Certification Process
Please note that our current certification process rewards companies with Green Business Certification or Gold Green Business Certification. Other processes used before September 2014 are no longer available to businesses who have not begun certification.
How long will it take to get Certified?
The assessment is designed to take roughly 20-40 minutes. Businesses that have all their sustainability information at their fingertips and their website site fully updated with comprehensive and specific information on their social and environmental achievements can finish it in less than 20.
The assessment is not responsive to a phone or tablet. Please use a laptop or PC for the best experience.
Some companies will have to do additional work on their websites or ask suppliers some questions, so you do not have to complete the assessment in one sitting. You can submit it at any point and come back to it. Make sure to save your work as you go.
Once you have submitted your assessment, Green America will review it and respond within 30 days. Need an accelerated review? Contact us and we'll work with you: certification@greenamerica.org.
How does the Gold-Level review process work?
The Standards Committee is composed of three to five Green America staff from our Business, Programs, Publications and Senior Administrative teams who have industry specific and larger green business experience.
The Committee upholds our cumulative expertise and leadership in green business from the past 25 years, and they look for evidence that a business balances social practices (workers, supply chains, community) with environmental practices and has moved beyond general sustainability practices into a deeper focus on their core work.
Recertification
Factors that may trigger recertification include:
Complaints against the company from consumers or colleagues
Changes in ownership
Changes in business model or product offering
Changes in the standards applicable to the industry under which the company was certified
Companies selected for recertification complete the current certification process in order to maintain their certification.
The process they use is identical to new members.
Their application and compliance with our posted standards are also treated similarly.
If the company is found to be non-compliant with our posted standards or chooses not be recertified, they lose their Green Business Certification and all rights to use the Green America Seal and to claim any affiliation with Green America or the Green Business Network.
---
Still Have Questions?
Contact us, and we'll get back to you shortly.