From the Rio Grande to Tierra del Fuego, Latin America is a region of the world with a multitude of traditions and cultures. Despite any differences in the clothes they wear, traditions they value, or daily life they experience, the majority of the region speaks the same language: Spanish. This is followed by Portuguese and hundreds of Indigenous languages, including Quechua, Mayan languages, and Gurani.
According to the U.S. 2020 Census, about 18.5% of people in the United States are of Latino/a/x, Hispanic, or Spanish origin. As a part of National Hispanic Heritage Month in the United States, take a look at the influence that the Spanish speakers in Latin America have on trade to the U.S. In particular, explore some of the fair trade goods that help workers in the region.
Fair Trade
Why should we buy fair trade goods? Because they provide disadvantaged farmers and artisans livable wages and sustainable livelihoods. Many businesses sell and produce fair trade items in Latin America, with some items more common than others. If you are looking to buy some goods in the region, Latin America is great for finding fair trade coffee, chocolate, and textiles.
Coffee
To begin, coffee is a popular product from the region that one can find fair trade. A large majority of the world's chocolate comes from Spanish-speaking countries in Latin America, for Honduras, Mexico, Colombia, and Guatemala are some of the largest exporters of coffee beans in the world. Much of the coffee is produced in tropical highlands spanning the region, and coffee from the Cordillera, a region that goes from Mexico to Peru, is known for its focus on the quality rather than the volume of coffee beans.
Velasquez Family Coffee is a Green Business Network (GBN) member with roots in the region. The coffee travels from Comayagua, Honduras and is fair trade. Guillermo and Cathy Velasquez import these beans in order to roast and sell them in Minnesota. The family farms they work with in Honduras have a livable income and help protect the ecosystem of the mountains around the farms.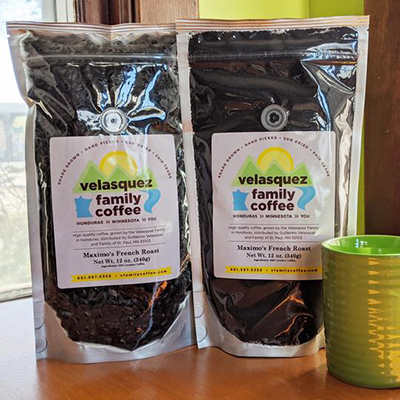 Maximo's French Roast Coffee (dark) — $10
Chocolate
Chocolate has been in the Americas for a large part of its history. The ancient Mayans and the ancient Olmecs of southern Mexico are some of the oldest creators of chocolate. Back in ancient times, cacao was used as a bitter beverage. The Mayans used it in every meal, along with during celebrations on important transactions. Later on, the Aztecs used cacao as a currency considered more valuable than gold.
La Chiwinha (GBN) sells chocolate products from Alter Eco (GBN). La Chinwinha is a store from Puerto Rico focused on selling fair trade and eco-friendly goods. Alter Eco works not only on fair trade but on the environment. They are carbon neutral and use recyclable or compostable packaging. The chocolate below comes from cacao farms in Ecuador and is vegan.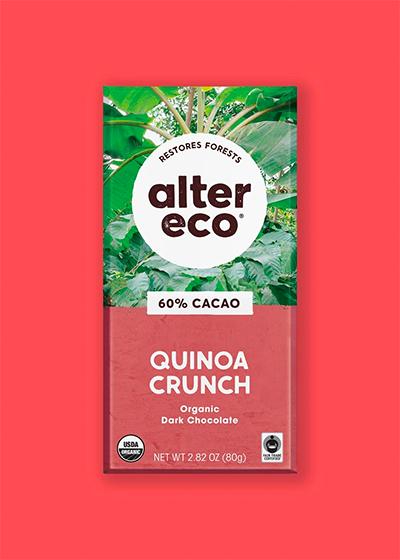 Alter Eco Quinoa Crunch organic dark chocolate bar — $3.99
Textiles
While there are multiple textile traditions throughout the region worth highlighting, the Andes are particularly historic. The Andean region has one of the best-preserved textile traditions in the world. This region in the mountains of South America has produced weaving, dyeing, knotting, and plaiting techniques that are still used today. People in the region often made textiles from cotton and wool from animals such as alpacas and llamas.
Inspired Peru is a great source for rugs, hats, gloves, throw pillows, stuffed animals, and more made in the Andean region. It is 100% owned and operated by Peruvian artists who create handmade, fair trade goods. When you buy here, you buy directly from the artisan!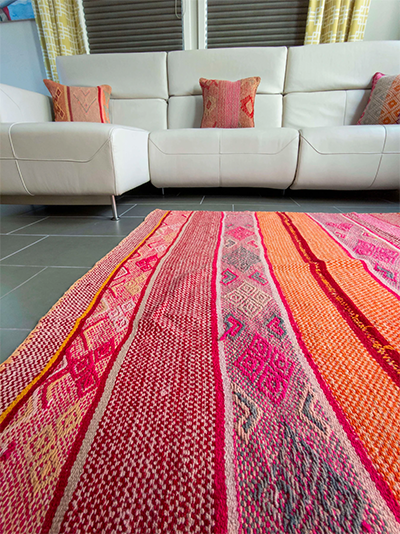 Outside of the Andean region, A Thread of Hope (GBN) is a good source for Guatemalan fair trade apparel. You can find scarves of every color that artisans wove by hand in Guatemala. They work with other fair trade businesses as well, such as UPAVIM (GBN) and Mayan Hands (GBN).
Purples, Lilac, Violet - Lightweight Bamboo Handwoven Scarf 8 x 68 — $45
For other fair trade textiles options, check out Maggie's Organics (GBN). They sell fair trade socks, clothing, accessories and home goods from Argentina, Peru, Tanzania, and India.
To find more Latino/a/x or Hispanic owned businesses, take a look at Green America's Member Profiles.