Left to Right: Penny of Green Kid Crafts, Raleigh City Farm education workshop, stock photo
Since 2012, Green America's People and Planet Award has recognized outstanding small businesses with deep commitments to social justice and environmental sustainability. This project has been made possible thanks to a special donor committed to giving a boost to innovative entrepreneurs. The People and Planet Award has bestowed over $300,000 on green businesses since its inception. 
The three winners of the first award cycle were Green Kid Crafts, Raleigh City Farm, and Sonoma Compost Company.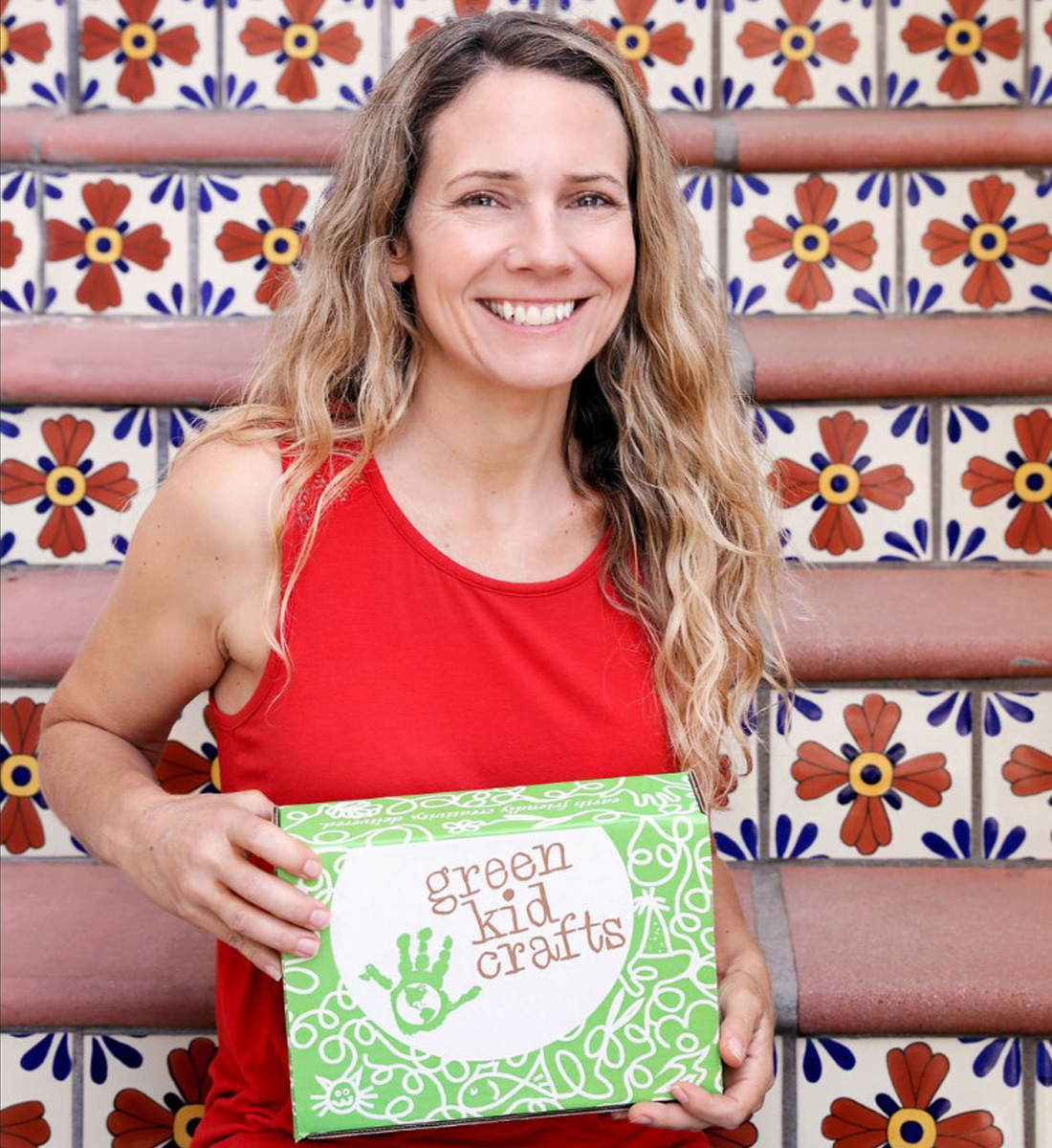 Where are they now?
At the conclusion of the People and Planet Award, we reached out to the winners to learn how the prize helped their business. Below are their answers. Sonoma Compost Company did not respond.
How did the People and Planet Award money help your business?
Penny of Green Kid Crafts: Thanks to the People and Planet Award, Green Kid Crafts has grown from a boot-strapped company operating out of my garage to an award-winning, multi-million-dollar company. Motivated by a passion to raise a generation of environmental leaders, in 2010 I founded Green Kid Crafts, a children's media company that provides kids around the world with convenient and sustainable STEAM (science, technology, engineering, arts, and math) activities. Today, it's become a leader in the subscription industry, with over 1 million packages shipped worldwide.
Every month's package is packed with up to 6 science and art kits designed by teachers and STEAM experts to foster a child's creativity and confidence while helping to raise the nation's next generation of creative leaders. Each package includes a 12-page STEAM activity magazine and achievement badges. Each month brings a new theme; past themes have included Botany Nocturnal Animals, Green Energy, Around the World, and Volcanoes.
My company mission to foster the next generation of creative, environmental leaders by engaging kids with the planet in hands-on, creative ways has exposed over one million kids to think about and take a leadership role in sustainability. Winning the People and Planet Award money helped to take us to the next level by providing us with financial resources during a particular cash-strapped time.
Raleigh City Farm: In the spring of 2012, the first group of volunteers gathered on the site of Raleigh City Farm with shovels in hand to begin the transformation of a largely abandoned one-acre site. This groundbreaking was the result of three years of planning and dreaming and fundraising by the founding board members whose vision was to "create a place where anyone can learn about farming." Early donations, including prize money from the "People and Planet Award" fueled the continued growth, change and evolution of Raleigh City Farm.
What did you use the prize money for?
Penny of GKC: When we applied for the People and Planet Award grant, we were limping by on a pretty inefficient website that had many problems. We put the grant money towards the strategy, design, construction and launch of a new mobile-optimized website, with sophisticated marketing, e-commerce and website management tools. The launch of our new website a few months later resulted in the immediate growth and long-term success of Green Kid Crafts.
Raleigh City Farm: Our current mission is to grow the next generation of farmers by connecting our community to sustainable agriculture and we've partnered and helped incubate many farmers including Farmers' Collective, Endless Sun Farms, High Country Firs, Farmer James and Infinity Hundred Farms. Our Impact can be broken down into three strategies: grow, connect and dig. We grow farmers by providing the site, marketing and volunteer infrastructure and resources necessary to support their success. We connect the community by leading workdays and tours, hosting special events and providing a variety of educational programming. The "dig" strategy ties to the many benefits of urban farms to support more healthy eating habits and lifestyles while protecting the environment.
What is your business up to now?
Penny of GKC: Now that we've reached our goal of selling our one millionth kit this past August, we are now focusing on selling our two millionth kit! Also, in the next month we will be releasing many new STEM and STEAM kits. Green Kid Crafts' themes generally fall within four categories: Ecosystem Science, Environmental Activism, Wildlife Science, and Earth Science. Past kits have included Outer Space, Save our Oceans, Green Energy, Rocket Science, and Arctic Science. Our new packs will follow along these thematic lines and will include an Ecosystem Pack, an Environmental Activist Pack, an Animal Science Pack, a Chemistry Pack, and an Ultimate STEM pack. We are also working on the launch of a Climate Change Box and a Save our Bees Box. These and current STEM and STEAM boxes are available for purchase here.
The next year will see Green Kid Crafts building out our international program and shipping to more counties. My passions include environmental and youth advocacy, STEAM education, and international connections so it makes sense that Green Kid Crafts' STEM and STEAM kids become available around the world! We are also working on a new program that will connect kids all over the world to learn from each other, help the environment, and develop the skills to make the world a better place. Through online and offline opportunities, kids around the world will be connected through monthly STEM and STEAM activities linked to international conservation projects, so stay tuned! In this age of global divide, I believe that art and science are the most powerful unifying force we have at our disposal, and I want to do what I can to put these skills in the hands of the world's youth.
Raleigh City Farm: The impact of Raleigh CIty Farm is far-reaching: our nonprofit farm is nestled in a very busy expanding urban area with over 15,000 cars passing by each day and over 20,000 eyeballs following us on social media (11K Instagram, and 5K/5K Fbook and Twitter). In many respects, we can be considered a "billboard" for farming and farmers - an important reminder that food is grown in the ground by human beings (as opposed to being sold in a supermarket) and that it is both nourishing for the body and pleasing to the eyes! We collaborate with a variety of partners to host fun events and educational programming that celebrates sustainability and urban agriculture. The success of the nonprofit has been overseen by a dedicated board of directors with widespread support from the community. We enter into 2020 with a new vision to donate over 50% of our produce to nonprofits increasing food access and addressing food insecurity. We're excited about envisioning our community more deeply rooted in appreciation and cultivation of local food and horticulture and taking the lead in connecting them through Raleigh City Farm.