The numbers are in! Professionally managed assets in the U.S. using socially responsible investing (SRI) strategies continue to grow rapidly. According to the US SIF Foundation's newly released 2020 Report on Sustainable and Responsible Investing Trends, SRI assets now total $17 trillion – a 42% increase since 2018.
This means that one third of all professionally managed investments are now involved in SRI.
In 1995, the first year of the biennial Trends Report, SRI assets totaled only $639 billion.
What is socially responsible investing?
SRI investments take into account the social and environmental impacts of companies and include issues like climate impacts, gender and racial equality, human rights, and labor issues. SRI investing works to create greater corporate responsibility, which can also lead to competitive returns.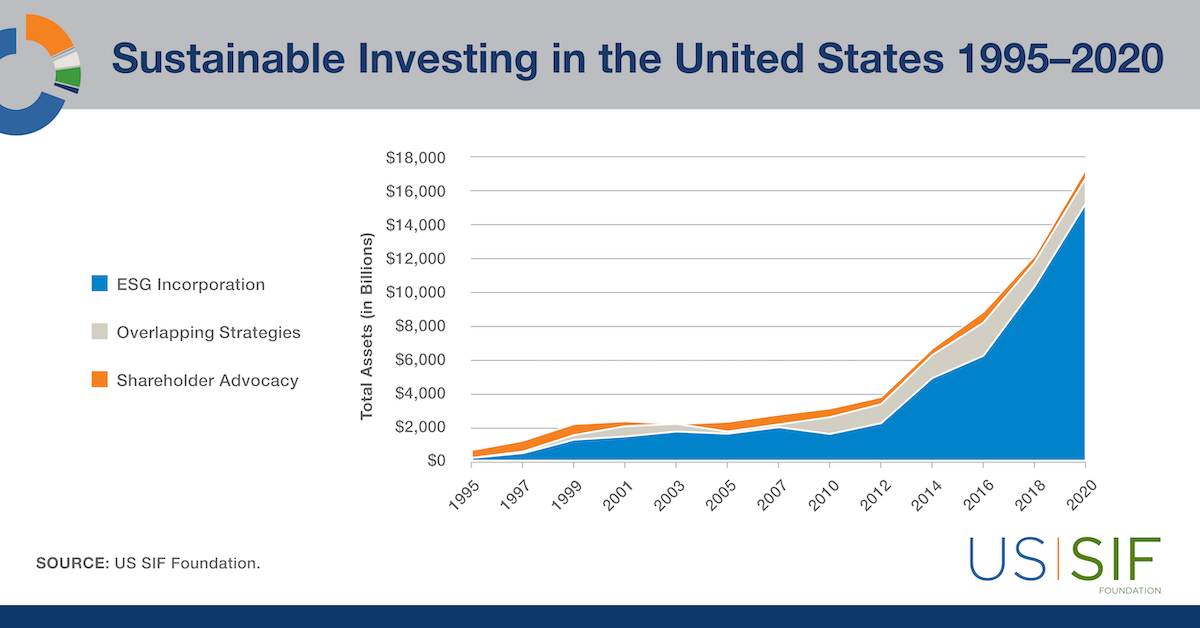 Despite recent attacks on socially responsible investing by the Securities & Exchange Commission and the Department of Labor, individual and institutional investors are increasingly seeking to align their investment decisions with their values or missions while meeting their financial goals.
In tracking the growth of SRI, the report examines the integration of environmental, social and corporate governance criteria in investment decision-making; the assets involved in the filing of shareholder resolutions; and community development investments that support economic uplift in marginalized regions.
Highlights of the report include:
The top 5 issues of concern to institutional investors (such as pension funds, foundations, hospitals, faith-based institutions, insurance companies, and educational institutions) are:

Terrorism/Repressive Regimes
Climate Change
Tobacco
Board of Director Issues
Sustainable Natural Resources & Agriculture

The top 5 issues of concern to money managers are:

Climate Change
Anti-Corruption
Board of Director Issues
Sustainable Natural Resources & Agriculture
Executive Compensation

The highest number of shareholder resolutions filed between 2018-2020 addressed corporate political activity – both political contributions and lobbying. Shareholder resolutions allow all investors in a company to cast votes that encourage management to take action on a specific issue.
The next most popular shareholder issues were fair labor practices and equal employment opportunity and climate change issues.
Community investing assets rose to $266 billion, growing 44% between 2018 -2020. This includes community development banks, credit unions, and loan funds. Assets in community development credit unions are the largest part of the community investing field.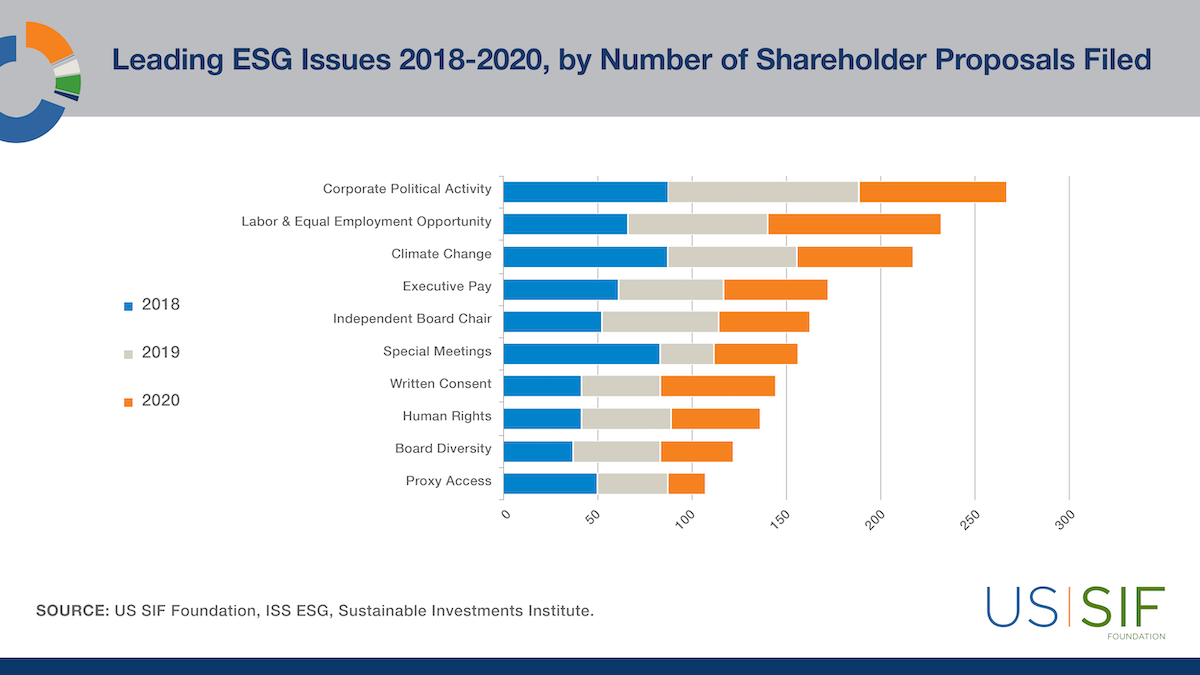 Investors are also responding to major current events. Investors surveyed on the impacts of COVID-19 and SRI trends going forward felt that SRI would continue to grow and that the current pandemic may increase interest in investment strategies that take environmental, social, and corporate governance issues into account. Investors also predicted increased attention to racial and gender equity issues and to the climate crisis.
Investors will likely continue to respond to the police murder of George Floyd and to the broader injustices it has made more visible. Through public statements, support for Black views and insights in corporate engagements, the inclusion of racial justice issues in the investment process, investing in under-served communities, and other actions, socially responsible investors will continue to use the power of their assets to build a better world.
Green America has many resources on socially responsible investing and better banking.
Use the power of your dollar for people and the planet today! Visit:
If you have enough money to open a bank account, you can become a social investor today!