This week, the historic Break Free From Plastic Pollution Act was introduced on Capitol Hill by Senator Tom Udall (D-NM) and Representative Alan Lowenthal (D-CA). Green America is proud to announce our support of the legislation along with over 470 other organizations.
Plastic production and incineration reportedly emitted 850 million metric tons of greenhouse gases last year and the industry has plans to increase plastic production by 40 percent in the coming decade. This bill looks to change that by proposing sweeping changes to plastic pollution and impacts on communities from its production to disposal. It would establish extended producer responsibility for certain items, requiring companies to invest in domestic recycling and composting infrastructure. Many of the solutions proposed have succeeded at state and local levels and this bill would implement those on a national scale.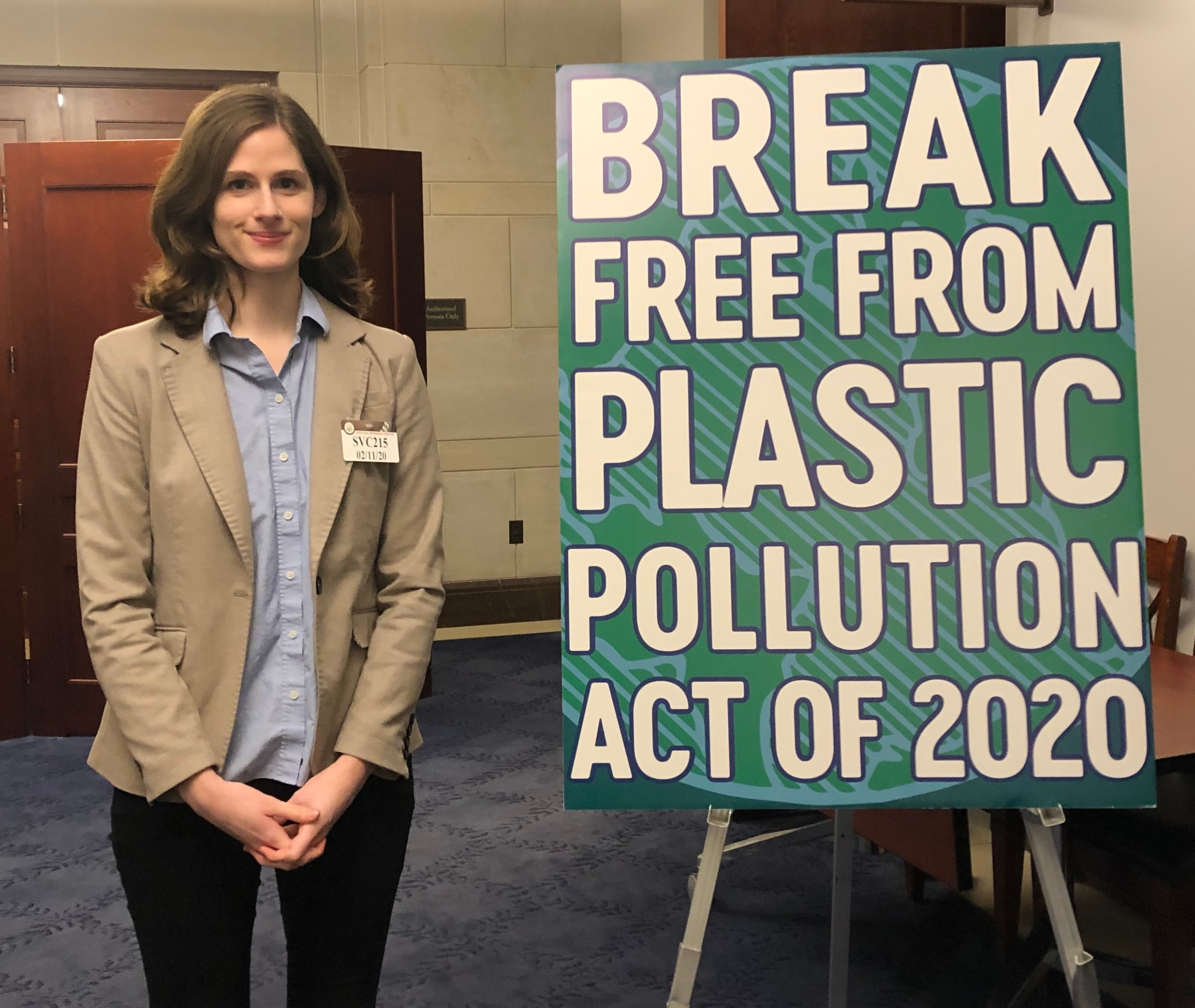 What Does the Bill Do? 
Develops a 10-cent nationwide container deposit system
Beverage containers of any material type could be returned to redeem a 10-cent deposit that is paid up front in the cost of the container. There are ten states with "bottle bills," where customers redeem deposits at the point of purchase or at redemption centers. States with deposit programs such as Oregon report recycling rates surpassing 80%, which is 16 times the national average.  
Tackles pollution in environmental justice communities 
The bill focuses on environmental justice communities that have been harmed and burdened by pollution from petrochemical plants and incinerators. It would place a temporary moratorium on new plastic production facilities while the health and environmental impacts of existing facilities and plastic products are investigated by the EPA. The bill would also ban the export of plastics to developing nations that lack capability to manage the waste. 
Tasks federal agencies to develop solutions 
The bill would task relevant federal agencies to develop plans to reduce pollution of fishing gear, electronic cigarettes, and plastic tobacco filters. The EPA would be charged with developing standardized recycling and composting labels and address education and awareness issues with the public.   
Bans numerous non-recyclable plastic items 
This includes plastic carryout bags (and a fee for non-plastic bags), expanded polystyrene (Styrofoam) food service items and shipping materials, plastic utensils, single-use bottles for hotel toiletries, and non-compostable produce stickers. Plastic straws would be limited and only available upon request. 
Requires the use of recycled materials
To help close the loop and ensure recyclables are collected and used in new production, there would be a 25% minimum post-consumer recycled content required for plastic containers that will increase over time to reach 80% by 2040.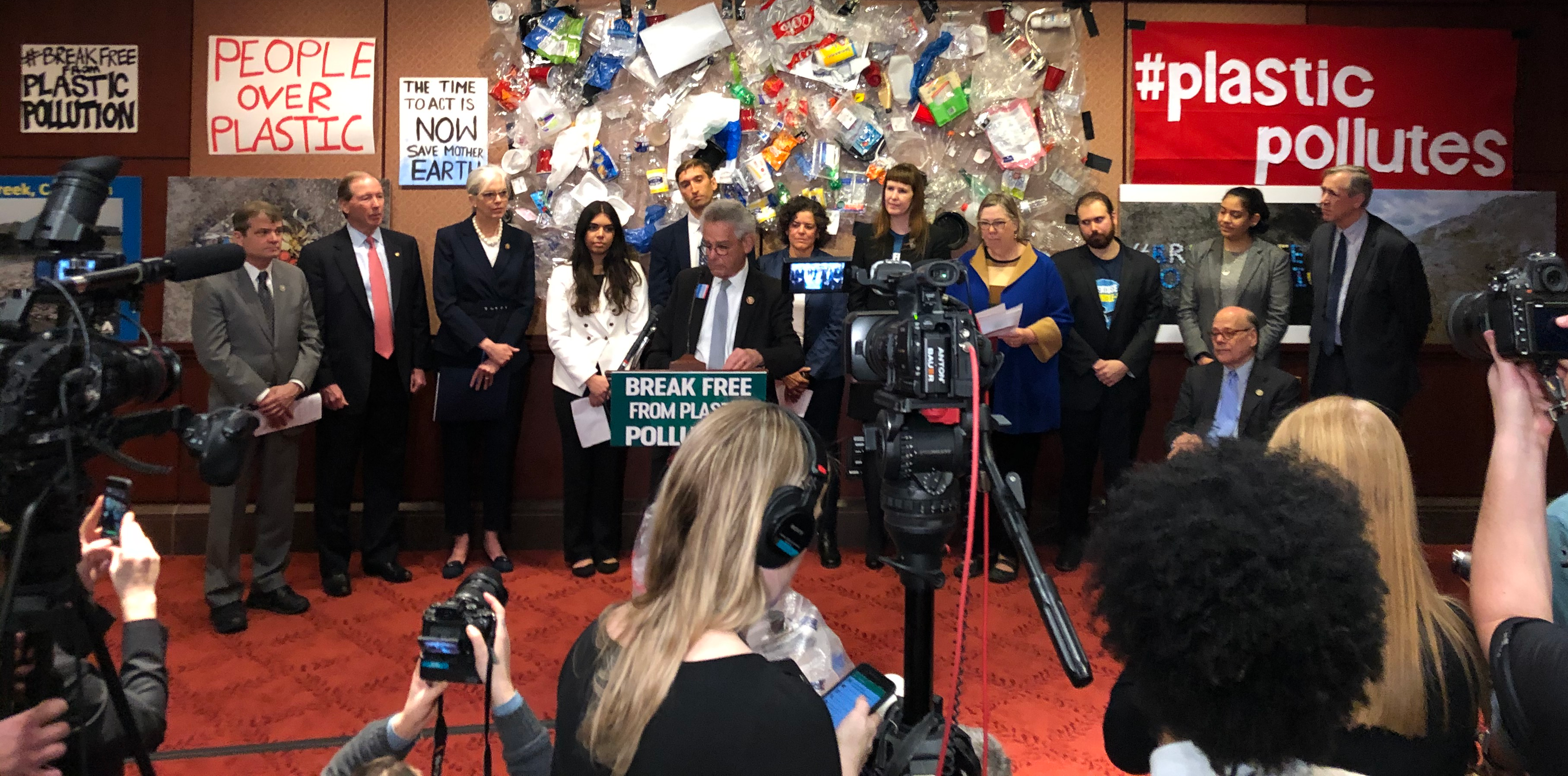 How to Take Action 
Take action today by urging your Senators and Representative to co-sponsor! You can call the congressional switchboard to be connected with their offices and use the sample script below.  
Switchboard number: (202) 224-3121 
Break Free from Plastic Pollution Act – Senate Bill #3263 and House Bill #5845
Script: Hello, I am a constituent of [Senator/Representative Name] and am calling to urge them to support and cosponsor the Break Free from Plastic Pollution Act [S.3263 in the Senate/H.R. 5845 in the House]. I care greatly about the environment and the communities affected by plastic pollution and this bill works to reduce non-recyclable plastic items and encourage the improved recovery of recyclable plastic materials. This bill works to end the health threats of pollution from petrochemical plants on communities and tasks federal agencies to develop comprehensive plans to address plastic pollution in our waterways. This is a historic effort that will spur innovation and investments in the United States' domestic recycling and composting infrastructure. Please support this bill for people and the planet! 
Next, you can spread the word by writing a letter to the editor. Use the information above and links to the bill text to help you write a letter or opinion piece to submit to a news outlet. This will allow you to express your concern on plastic pollution and reach others who may be inspired to follow your lead!