Elect Your Representative to the Green America Board of Directors
Cast your vote by November 30, 5PM ET
As a Green Business Network Member, you can vote for your representatives to the Green America Board. This year, there is one seat up for election for a 3-year term, and we want to hear from you.
Green America's democratically elected Board of Directors represents all of our various stakeholders—our individual members, our business members, and Green America's worker members. Your participation is vital to our ongoing work to grow the green economy.
Browse your candidates' personal statements below and cast your vote by November 30, 5PM ET. The winner will be announced in an upcoming issue of Connections.
---
Salimata Bangoura
DUGU
I am applying to be a representative on the Green America Board because being new to the Green America community, I want to take a deep dive into better understanding not only my role as a member, but what I can do to promote the mission and vision of building a green and just economy. I know what is at stake if I don't do my part in contributing to a better and safer world, and I believe that to accomplish that, I need to be at the forefront of an organization that is seeing to the security of that fragile future. As a result, for my own three little children and their generation, my focus is not to list my past accolades and accomplishments. It is not to convince members to vote for me because I have always been "green conscious". 
My focus is to say very loudly and clearly, that I have awakened and that I am here now because there is no other or better place for me to be in the fight to help everyone thrive in today's competitive green marketplace. It is to say that I am bringing a fresh perspective, a different worldview and lived reality to what it means to be a green business. Not because it's cool or will get you customers, but because it is the right thing to do. Not because I know what to do or say, but because I am on the journey to figure out how to make that happen and how to implement it in my own life and business. The journey becomes that much more relevant and your voice is that much more amplified because I, we, are living it. This is why I want to be a representative on the Green America Board, and it is through that opportunity that our combined lived experiences can contribute to help shape the future of green in business.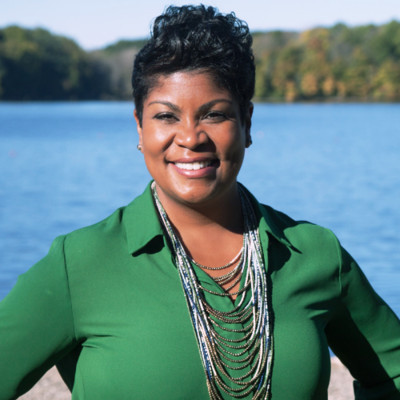 Danielle Burns
C-Note
It is with enthusiasm, passion and purpose that I respectfully submit my statement for re-election to the Green America Board.  I have been partnering with Green America for the past 16 years through various roles and Green America industry partners such as The SRI Conference and Community.  Currently, I am chair of the Boards Finance Committee – we are a team dedicated to and responsible for monitoring and communicating to the board about the organization's overall financial health.
My background emphasizes leadership, strategic thinking and contributing to a diverse and meaningful thought process. Today, my work is 100% centered around racial equity and social justice by working with Community Development Financial Institutions (CDFIs) to provide them with capital they need to support deeper economic growth and opportunities for the communities they serve.  Additionally,  I share in Green America's desire in helping individuals and businesses have access to the tools and resources necessary that help contribute to a healthy environment, fair and ethical treatment of all people and embrace equal opportunity among other things.
Through my experience and partnership with Green America as well as deep relationships with Impact Investing business partners, I have gained a solid understanding of the many challenges and opportunities that nonprofits face on an ongoing basis. Green America has done an outstanding job at staying publicly engaged and maintaining a seat at the table to address important issues through advocacy and engagement with campaigns such as seeking to hold the Environmental Protection Agency accountable for its decision to roll back environmental rules on polluting as well as helping to center conversations around Social Justice.
Through the work that I've helped support at Green America, we are helping to effectively tell the stories of people who want to create a world in which everyone can live happy, healthy and free. I would be honored to continue to contribute to that work. 
Amy Hall
Impactorum
As Vice President, Social Consciousness, for designer Eileen Fisher, I've had many years – 27, to be exact – to learn about, experiment with, and be inspired by sustainable and ethical business practices. Not only did I launch EILEEN FISHER's human rights and environmental work, but I co-led our Vision2020 initiative, championed our women in environmental justice grant program, led our B certification process, and advised on our quadruple bottom line business model.
I have also been involved in some of the apparel industry's pioneering efforts to reduce its impacts. These include the earliest supplier codes of conduct, like SA8000 and the Ethical Trading Initiative Base Code. And industry calls to action, like supply chain transparency, higher minimum wage legislation, circular economy, regenerative agriculture and more.  Most recently, I established my own consulting enterprise – Impactorum – to help smaller businesses and early career CSR professionals maximize their own impact. My webcast "Impact Matters"looks at how change makers from many sectors define and measure impact for the greater good.
If elected to Green America's Board of Directors, I would be honored to apply my expertise in supporting businesses of all sizes and industries find their unique path toward resiliency and regeneration. We are members of an awesome ecosystem that must find a way forward together, not separately.
Science tells us we have ten years to reverse humanity's impact on our fragile planet. With our collective ingenuity, commitment and humility, we can give our children hope for a greener future.